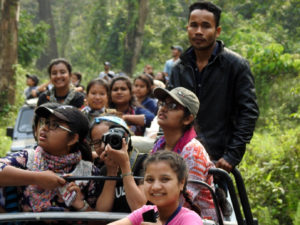 To optimize the classroom teaching the Department of Zoology, Assam Don Bosco University, organized a two-day field trip to the renowned UNESCO World Heritage site "Manas National Park" on the 24th and 25th March, 2018.
The field trip was organized with a view to study community-based ecotourism model where students and faculty were hosted by the volunteers of the "Smiling Tuskers Elephant Camp". The volunteers at the camp site organised a bird watching session to the areas surrounding the camp during which as many as 56 species of birds were spotted.
The session was followed by three presentations by the volunteers who discussed about the ecological importance of the Park, its diversity in flora and fauna and the significance of community involvement, particularly the youth in conservation efforts. The climax of the trip was the much awaited "Jeep Safari" to the Core Zone of the Park. The students saw birds and animals in their natural habitat including Elephas maximus (Indian Elephant), Bubalus bubalis (Asian water buffalo), Trachypithecus pileatus (Capped Langur), Macaca assamensis (Assam macaque), Hyelaphus porcinus (Indian Hog Deer), Muntiacus muntjak (Barking deer), Varanus bengalensis (Common Indian monitor lizard), Pavo cristatus (Peacock), Houbaropsis bengalensis (Bengal florican), Buceros bicornis (Great Indian Hornbil), Gallus gallus (Junglefowl)… to name a few.