The new faculty recruits at AssamDonBoscoUniversity (ADBU) had a four day induction program from 8th to 11th July 2014 at its Azara campus. Ten new faculty members including two who joined earlier in the year participated in the program organized by Human Resource Director Miss Juhi Baruah.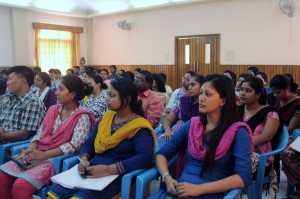 Some of the day-long training content for 10 new faculty included toplcs like: Orientation in the World of Don Bosco – history, mission, vision, and values; Research; Orientation in Human Resources: Performance Management, and Employ's Service Manual; University's Outreach Program, Psychological Counseling;
Reoccupation of Classroom, Reconstruction of Pedagogy, and Realignment of Classroom; Administrative Procedures; Entrepreneurship, Training & Placement; and Social Media for ADBU brand development.
The entire faculty was present for the day-long session on mentoring conducted by Dr Loya Aagarwala for the Department of Psychological Counseling, and a three hour session on the last day on "Interaction on learning to teach effectively" conducted by ADBU registrar Dr Basil Koikara. The Vice Chancellor Dr Stephen Mavely present at the concluding session listened to each individual participant's learning experience from the induction program. Another two full day Professional Development program on "Transformation Through Reflection and Critical Thinking," for faculty is scheduled for 15-16 July. It will be conducted by Mr. Neville Lobo, Global Head of Training & Development, Larsen & Toubro and Mr. Rohan Athalye, Training & Development, Larsen & Toubro.