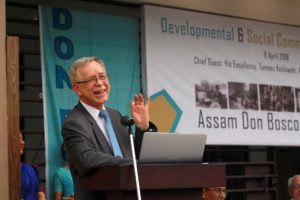 On 9th April, the University held a function 'Developmental & Social Commitment Initiatives" to showcase various social commitment initiatives and socially relevant research of the University at Tapesia Campus, where his Excellency Tomasz Kozlowski, Ambassador of European Union to India was the Chief Guest.
Welcoming the dignitaries and guests, the Vice Chancellor, Fr. (Dr) Stephen Mavely said, "The programme this afternoon has been organized to showcase the developmental and social initiatives of the University – its faculty, students and research scholars." Highlighting around 15 areas of socially relevant research undertaken at the University he added, "Our research into socially relevant products are finding pride in our social commitment works in the villages around the University Campus…Social commitment runs in the genes of Don Bosco Society. Such commitments is writ large in the profile of Don Bosco University graduate…I am sure that the years ahead will see our graduates and researchers taking pride in the research to develop socially relevant products that impact and ameliorate the lives of people across our country and the globe".
On this occasion, 12 solar powered water purifiers, developed in house by the Center of Excellence in Nanotechnology were handed over to 12 villages and Certificates were distributed to the first graduates of a six month course Women Adult Education Programme, organized under the Center of Development Studies and Initiatives.
Addressing students, teachers and local community, Mr. Kozlowski said, "For years, countries in Europe had been fighting one another which resulted in the two great wars that the world witnessed. Countries in Europe have different cultures, different climate, customs, beliefs and practices, but, we came to a realization that diversity is our asset. So, 28 member nations of Europe came together and formed European Union with a hope to create a better future.
"India is a natural partner for us because we share the same value system. India and EU follow same democratic system, judicial system etc and we are devoted to preservation of human rights, we look first at what binds us together, we contribute for world peace by sending peace keeping troops to different parts of the world. As EU is working toward a better integration in spite of our differences, migration issues and problems, we look forward to a stronger partnership with India"
Appreciating the University's deeply rooted involvement in the social commitment programmes and the developmental works being done for the local community, the Ambassador said, "This is exactly what a higher education institute should be engaged in, and I am happy to witness visible results of your hard work".
A presentation on the Social Commitment programmes of the University by Ms Hazel Wahlang, Coordinator, Center of Development Studies and Initiatives, and a presentation on the socially relevant research of the University by Prof. Sunandan Baruah, Director, Center of Excellence in Nanotechnology gave insight to the many areas of developmental initiatives and social commitments of the University to the audience.