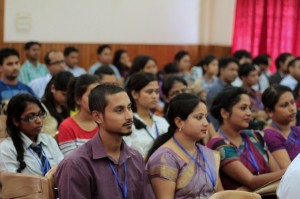 A two-day National Conference on Emerging Trends in Entrepreneurship Development in Northeast India took place at ADBU, 22-23 August 2014.
Submission of scholarly and original research work and practical experience in the various aspects of entrepreneurship development were presented.
In his inaugural address, Dr Stephen Mavely, the Vice Chancellor, ADBU, said that, "the attitudinal change taking place among faculty and students regarding entrepreneurship, "is the in thing to do in the University," he said listing various initiatives being undertaken in the university's labs to produce marketable and commercially viable appliances.
Don Bosco College of Engineering & Technology Principal Dr Manoranjan Kalita endorsed opinion of several panellists when he said, "Government should support youth, devoid of red tape, to ensure that financial risk by budding entrepreneurs is minimized."
Dr Kalita also called on government to set up a separate sector to endorse entrepreneurship among students and issue "mandatory instruction to the corporate sector to help in academic training, as part of their Corporate Social Responsibility."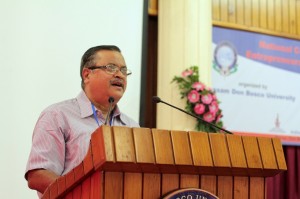 Prof. Nayan Baruah, Head of the Department of Commerce, GuwahatiUniversity lamented that only 10 percent of students proceed to Higher Education in 682 universities in India of which 45 are Central, 321 state universities, 129 deemed and 128 private universities catering to 1.23 billion population.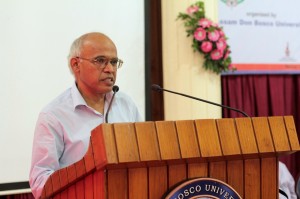 The Deputy Director of ICSSR and NERC, as the Chief Guest at the Conference, Dr Joshua Thomas, complimented both Guwahati and DonBoscoUniversities in their joint venture to help generate jobs for their students
Prof Aparajeeta Borkakoty, the Dept of Commerce, GauhatiUniversity, in her presented keynote address challenged students "to identify alternative entrepreneurial options, and choose the sustainable and labour intensive ventures."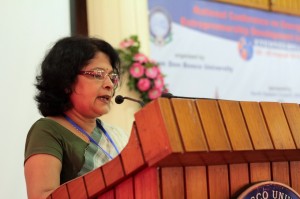 Prof Borkakoty also emphasized on "industry-university research collaboration which can lead to thriving world class small entrepreneurs like SME's of Taiwan."
Almost 170 people participated in this conference as delegates of 10 universities and colleges in Guwahati, Universities in Silchar, Tezpur and Dibrugarh and 56 ADBU students, as well as 56 presenters.
Awards for the best presenter at the conference went to Dr Sinmoy Goswami & Suman Sarma of Assam Institute of Management Guwahati for their paper entitled: Reasons for Entrepreneurship in Kamrup & Kamrup District of Assam."
Purnashree Das & Surabhi Borthakur of GauhatiUniversity bagged the second place for their presentation: Empowerment of Tribal Women Through Entrepreneurship.
The Convener of the Conference was Dr. Biju Mani Das.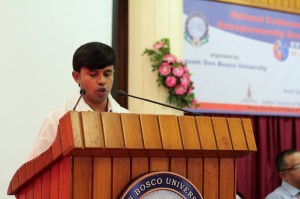 The Indian Council of Social Science Research (ICSSR), New Delhi was the chief sponsor while Assam Gramin Vikash Bank, Bhangagarh, Guwahati, Raju Dresses, Guwahati (Specialist in school and college uniforms), and United India Insurance Company Limited (Pandu Branch, Guwahati) were co-sponsors.
The main sub-themes of the conference were: Economic development and growth through   entrepreneurship, rural and agric-entrepreneurship, globalization and entrepreneurship, infrastructure development for entrepreneurship, social entrepreneurship, entrepreneurship for engineers and technological innovations, women entrepreneurship, entrepreneurship development in different sectors (such as tourism, fisheries, food processing, horticulture, sericulture, handloom and handicraft, etc.) entrepreneurship education, green entrepreneurship, export-oriented entrepreneurship, international entrepreneurial opportunities with reference to Look East Policy.