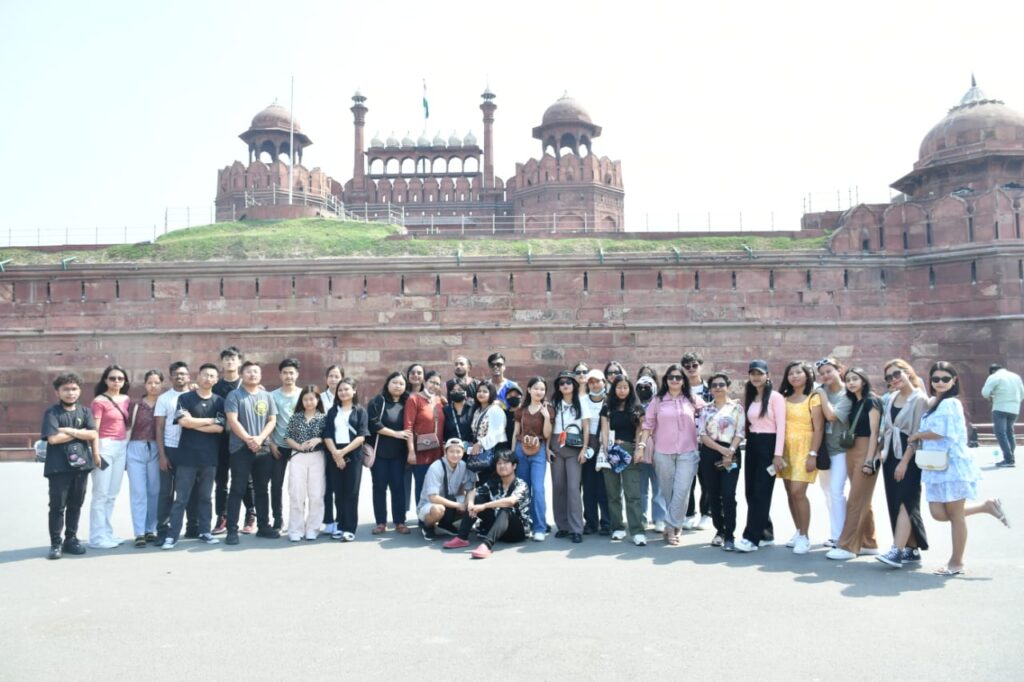 The Department of Education organized an Educational Tour from 7th February – 15th February 2023 for the students of BA-6th semester and MA-4th semester, accompanied by Dr. Tania Sur Roy, Head, Department of Education and Dr.Ranjita Chanda, Asst. Professor (Sr.) Department of Education.
The educational institutions visited included Jamia Milia Islamia, Delhi; Jawaharlal Nehru University, Delhi, Amity University, Noida (AIE) and University18 Head Office, Gurgaon. In Jamia Milia Islamia, the visit was to the Department of Teacher Training and Non-Formal Education (IASE) where students attended interactive session. During this trip students also paid a visit to different Non-formal centres like Art & Craft, Tie and Dye, Needle work, Puppetry, Carpentry, Origamy etc.
At JNU, Prof. Minata Panda, Chairperson of Zakir Hussain Centre of Educational Studies, SSS, JNU delivered an enlightening session on Educational Research and Prospects. Student faculty interaction was coordinated by Prof. Saumen Chattopadhay, Prof.Parimala Rao and Dr. Pradip Kumar Choudhury. Later the team visited the entire JNU Campus including the Central Library.
An event Maitri Bhawana- Vividhta Mein Ekta was organized by Amity Institute of Education, Noida in association with Department of Education, Assam Don Bosco University which focused on cultural and educational exchange through ice breaking activities, high tea, video presentation, cultural events, panel discussion, lunch, visit to the entire campus and Central library. The students of ADBU got an opportunity to meet Prof. Balvinder Shukla, Hon'ble Vice Chancellor, Amity University. The event was led by Prof. Alka Mudgal, Head, AIE and her team.
The last institutional visit was to University18, Head Office, Gurgaon which welcomed the ADBU team on a non – working Saturday by their full presence and participation. Their program included a presentation by U18 wherein students were acquainted with their various collaborations, partnerships, highlighting DBU Global and ADBU. During the interaction, the students took keen interest in asking questions regarding the Evolute app which they all had used for appearing in their online exams during Covid pandemic.
Apart from the institutional visits, the students were also taken for sight-seeing to places like India Gate, Rashtrapati Bhavan, Red Fort etc. in Delhi and Golden Temple, India Pakistan Border at Attari etc in Amritsar, Punjab.
The entire team received an overwhelming welcome by all the institutions they visited in terms of food, hospitality, assistance, mutual collaboration which will remain unforgettable in the years to come.