D'VERVE 2014, a week-long culture and sports fiesta opens with a peace rally – "United Northeast – A Peace Rally"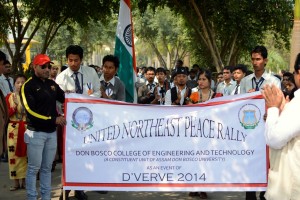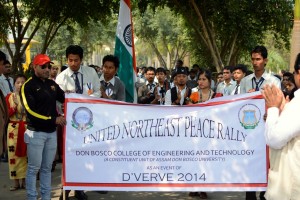 Mahadev Deka from Nalbari, Assam, who was Mr Universe in 2009, flagged off the march along with Vice-Chancellor of ADBU, and Principal of the Don Bosco College of Engineering and Technology.
After a 40-minute peace rally along National Highway 37, the marchers gathered to open the fiesta christened "D'VERVE" by welcoming the Olympic flame, hoisting the flag and taking the pledge.
Deka lit the Olympic torch and addressed the students encouraging them to take active part in the opportunities provided to excel in all spheres.
"I am mighty pleased to see such a colorful event organized for a noble cause, peace and harmony in the northeast," said Deka speaking in Assamese.
After hoisting the D'VERVE flag, the Vice Chancellor Dr Stephen Mavely spoke on the theme "Go, Glow and Grow" which has been celebrated each year since the start of the university six years ago.
The Controller of Exams and in-charge of Campus Ministry Dr Francis Fernandez administered the pledge to the Class representatives on behalf of all the students.
Declaring D'Verve 2014 open, the principal of DBCET Manoranjan Kalita exhorted students to take active part in all the events spread out all through the week.
"This year we have more than 100 events spread out in six days, and I wish each student takes part in at least one event," said Kalita exhorting students to grab the opportunity to show case their talents.
Student Coordinator Atique Hussain explained the events hosted by Sports, Dance, Music & Singing, Drama, Art & Craft, and Literary clubs.
"The student participation this year is far higher than other years and we had to hold auditions for the song, dance and musical events," Hussain said.
The inaugural function ended with a body building show and interaction as regards health and nutrition with Deka.
Showing his six pack biceps Deka a body builder and civil engineer by profession told the students who were awestruck, "this is not built in the gym, but in the kitchen," he said explaining
the need of strict dietary regimen in "body engineering."
Deka follows a daily diet of 20 egg whites, a chicken, fruit juice, little brown rice, lot of green vegetables and allotted supplements.
The week-long event is scheduled to end on Saturday evening, 15 March.
Note: To see more photos of this event, kindly visit "DVerve Opening Day Album"