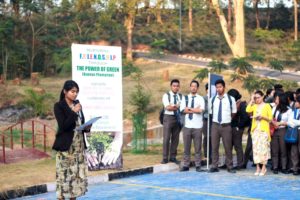 The Feast day of St. John Bosco was observed on the 31st January, 2019 at Assam Don Bosco University, Tapesia Campus to celebrate the life of Don Bosco. At a special assembly held in the morning, a short drama which included a video on the life was Saint John Bosco was presented at Academic Block II.
To commemorate this day, the Centre for Development Studies and Initiatives (CDSI) in collaboration with the Eco Club organised a programme "Nurturing Friendship Through The Power of Green" in the campus based on the theme of Friendship and Sustainability.
The event commenced with a welcome address delivered by Ms. Hazel B. Wahlang, Co-ordinator CDSI. To further enliven the day, the Music Club performed a soulful rendition of Michael Bolton's "Lean on me". The Vice Chancellor, Fr. Stephen Mavely, in his address laid emphasis on the importance of unity among the students and encouraged each one to create an atmosphere of cooperation and friendliness.
The Vote of Thanks was proposed by Ms. Iakidakmen Kharmalki, student member of the Eco Club. The event concluded with the Plantation Drive alongside the "Dreamer's Lane" and "Poet's Lane" which witnessed enthusiastic participation of faculty members, staff, and students of the University and neighbouring villages. To make the Programme more memorable, each of the trees was befriended by a group of students or faculty or staff, who adopted the tree and will nurture the tree, and pass it on to another group to continue nurturing it. Against each sapling is a name tag of the students, faculty and staff to symbolize an acknowledgement of the special relationship of FRIENDSHIP fostered here at Assam Don Bosco University.