The School of Technology launched its Debating and Quiz Club on 21st February with a half-day workshop on "Debating Skills Development."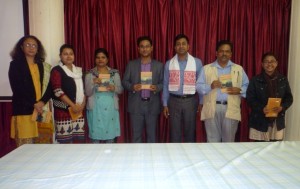 Some 50 engineering students participated in the programme inaugurated by Director of the School of Technology Prof. Manoranjan Kalita along with resource persons Sabah al-Ahmed, Rashmita Baruah and Hemashree Bordoloi in the presence of University Officials and Department Heads.
The Club's President Anjan Borah welcomed resource persons and participants. He briefed the audience about the genesis of the Debating Club, and how 'debate' used to be a part of the activity of Literary Club.
In his introductory speech Prof Kalita welcomed the initiatives of starting the club by veteran student debaters and student advisor Swapna Bhuyan and the Club's Vice President Manas Pratim Das who made a mark at the Great Debate held under the aegis of British High Commission at IIT Guwahati.
Prof Kalita warned students saying, "Without eloquence, you will not be able to perform well at job interviews and group discussions."
Popular Assam Tribune columnist and author Mr Sabah al-Ahmed kept the enthusiastic and aspiring debaters alert with an interactive session where he engaged students on the need to have "the gift of the gab, and fight the fear factor" to excel in the art of debating.
Besides having confidence, Mr Sabah insisted that debaters must have awareness of the topic, empathy with the audience, freshness of attitude, balance, fearlessness, wit and authenticity. Mr Sabah complemented Director of the School of Technology saying, "It is commendable that at a university level you have started debating club to hone the verbal communication skills of students".
Other presenters included Rashmita Baruah and Hemashree Bordoloi from Schools of Technology and Social Sciences.