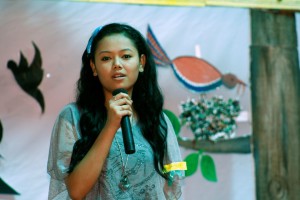 The ADBUs Don Bosco College of Engineering and Technology at Azara held its fresher's' social on Tuesday 13th August at the atrium. The four hour afternoon event was prepared meticulously by the B.Tech 3rd semester students.
"Everyone wanted to perform and we could not accommodate all. So we had to restrict ourselves only to 30 items," said the coordinator of the program.
Besides songs and dances from various cultural and tribal traditions, the afternoon featured two rounds of fashion parade to choose Mister and Miss DBCET. Fifteen pairs of smart looking students with fine sartorial outfits flaunted their talents on the specially prepared ramp at the atrium.
After the first round, 10 top ten candidates were short listed for the final round which consisted of answering impromptu questions by a panel of three judges, namely: Ms. Rashmita Baruah, Mr. Bikramjit Goswami and Ms. Nabamita Das.
While Chandramita Kalita was declared Miss DBCET, Khrawbok Marbaniang became Mr DBCET to the thunderous applause of the audience.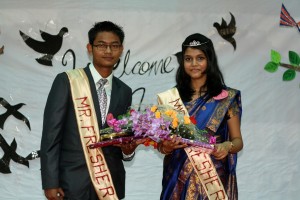 It was not all song and dance. There were motivational talk from the Vice-Chancellor Fr Stephen Mavely who encouraged students to make use of the atrium stage every day to show case their talents. He encouraged students to turn the atrium into Hyde Park London where anybody who needed an audience could perform.
The DBCET Principal Mr Manoranjan Kalita wanted the students to avail of every opportunity provided in the college.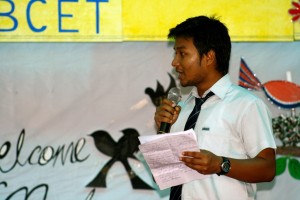 Student Coordinator of B.Tech Mr Atique Hussain presented the culture of hard work and perseverance, as well as the culture where each one's identity is respected as the hall mark of Bosconians.
"DBCET will help you to fulfill your dreams, if only you help yourself," said Hussain putting away his prepared text and revealing a secret to the freshers.
The assistant student coordinator Francis Nazary of Computer Science Engineering 3rd semester gave the vote of thanks.
While Tenzin Chonzom and Barnam Parashar were the MCs for the song and dance events, Irani Mahanta and Partha Prathim Pathak compered the fashion parade.