AZARA, 28 October – The Assam Don Bosco University (ADBU) students held a candle light solidarity march with the theme "gender Justice" on Monday 28 October at 5 pm.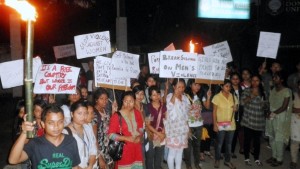 The Master of Social Work faculty and students took the initiative to prepare the posters and banners and candles for some 400 students of Carrenno Hall and Ferrando Hall hostels for boys
and girls. "This is our commitment to the larger issues of gender injustice and to place on record our solidarity with women who continue to suffer injustice," said Miss P. Nadeen addressing the students assembled in front of the University gate on NH 37 at Azara. The candle light procession started off with the song "We shall over come" and marchers walked in single file along the high way to Azara Public Health Centre less than a kilometer away. The march ended at 6.30 pm with ADBU Vice Chancellor Dr Stephen Mavely exhorting the marchers to strive for gender justice and respect women and treat them as sisters.
Guwahati city today witnessed 12 hour bandh (shutters down) called by Asom Yuba Parishad, Krishak Parishad and Shram Parishad (from 5 am to 5 pm) to protest against rising crimes against women in the state. Last Friday (25 October) two women were allegedly gang raped and found murdered near a railway track at Jogipara area near Azara close to Guwahati International Airport. Incidentally, it was on Friday last hour that Advocate in Patna High Court and legal consultant at the Jesuit run Indian Social Institute in New Delhi, Sister (Lawyer) Tresa Paul HC, LLM, gave a talk to the students of School of Social Sciences, on gender justice, legal provisions in India. Some 120 post graduate students and faculty from departments of Social Work, Psychological Counseling, and Educational Leadership attended the talk. Student leaders in the march under the leadership of faculty members Jacob and Victor included Tapobrat Borah, Michael Tanti, Augustine Dung Dung, Edward Daimary, Augustie, Dipesh, Hazarika Neingusato and SD Kin.