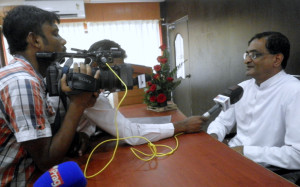 Breaking away from the traditional university certification, Assam Don Bosco University (ADBU) this year has introduced an additional one-page certificate signed by both the Registrar and Director of the Program, besides the standard degree certificate.
"This new practice gives a detailed and comprehensive picture of the candidate's performance, both academic as well as the skills that the student acquired and demonstrated during his/her stay at the University," said the Vice Chancellor addressing the assembly on the eve of second annual convocation, 20 September.
Giving an example, the VC read out a sample certificate prepared by the Master of Social Work Department for this year's graduates, "Kishore Das (name changed) MA, (Sociology) Madurai Kamaraj University, Tamil Nadu registered for a postgraduate degree programme of two years in Assam Don Bosco University, Guwahati in June 2011. On the successful completion of his studies, he was awarded the Degree of Master of Social Work (MSW), with Area of Concentration "Community Development" on September 21, 2013.
In part fulfillment of the requirements for the degree, he undertook a research project and submitted a report entitled "Elementary Quality Education in Hamren, Karbi Anglong in Assam". This research is a sincere and committed attempt to understand the Quality of Education in Karbi Anglong Disrict and particularly among the Karbi Community. The research captures the nature and quality of schools functioning in Karbi Anglong particularly in Hamren Sub-division.
In the first semester, he was placed for fieldwork in Observation Home, Boko, Assam. In the Second Semester he was placed in ASHADEEP, Guwahati. In the second year, he was placed in Bosco Reach Out (BRO) and worked in Udalguri, BTAD area. In BRO, he was engaged in the assessment of the functioning of the Self Help Groups in Udalguri region. He was also placed in North Eastern Region Community Resource Management Project (NERCORMP) where he organized various training programmes for SHGs and CLFs. For block fieldwork, he was assigned to work with the BoscoNet, New Delhi and worked in the area of fundraising.
Kishore was placed in Hamren, Karbi Anglong District, Assam for rural practicum. In the second year, along with fellow students he went on a study tour to South India (Chennai and Bangalore) and visited organizations working in areas of Community Development, Family and Child Welfare, and Medical and Psychiatry care.
He attended a workshop on Development of Communication on 11th to 18th February 2013, organized by Assam Don Bosco University; a National Conference on Revisiting and Reassembling Tribal Studies in India: Special Focus on the North-East on 25th to 26th March 2013, organized by Tata Institute of Social Sciences and Assam Don Bosco University; and also a Workshop on Statistical Analysis and Interpretation of Data using computer based software organized by Assam Don Bosco University from 19th to 21st April 2013.
Kishore participated zealously in the academic and cultural activities organized by the University. He is sincere, dedicated and hard working. He has the necessary preparation to work in urban as well as harsh rural working conditions. We wish him all the very best for his future career."
It is expected that from 2014 all ADBU departments will award similar certificates to their graduates