A three-member delegation from Curtin University, Western Australia visited Assam Don Bosco University and met with ADBU authorities, as well as interacted with various departments of the School of Technology.
Pro-Vice Chancellor Prof. Andris Talis Stelbovics, Faculty of Science and Engineering lead the foreign delegation along with Dean International for the Faculty of Science & Engineering Prof. Syed Islam director of Centre for Smart Grid and Sustainable Power Systems, and Dr. Salim Barbhuiya lecturer in the dept of Civil Engineering at Curtin.
Principal, Don Bosco College of Engineering and Technology Dr Manoranjan Kalita lead the ADBU School of Technology delegation. Among the four presenters from ADBU included Dr Sunandan Baruah (Head, Electronics & Communication), Dr. Yumnam Jayanta Singh (Head, Computer Science and Engineering & Information Technology), Dr Shakuntala Laskar (Head, Electrical & Electronics), and Dr Monmayuri Baruah (Head, Basic Sciences).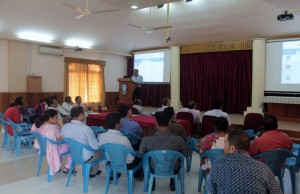 Curtin University of Technology is Western Australias largest university with over 40,000 students, around 16,000 of those offshore and onshore international students and nearly 1,700 research students. It is named after the former Prime Minister of Australia from 1941-1945, John Curtin. Curtin University of Technology is a world-class, internationally focused institution.
Curtin's main campus is situated in Bentley, six kilometres south of the centre of Perth, Western Australias capital city. Curtin has two additional metropolitan campuses and regional campuses in Kalgoorlie and Northam. Since 2005, Curtin opened a branch campus in the Sydney Central Business District. Curtin also has two offshore campuses: in Miri, Sarawak, Malaysia and in Singapore. Curtin offers over 850 undergraduate and postgraduate courses in business, engineering, health sciences, humanities, science, mining and agriculture. Curtin also has an extensive research and development program, including $100 million of new leading edge facilities in chemistry and resources science.