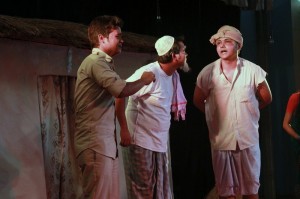 The 3rd Inter-College Drama Competition 'CURTAIN CALL', organized by the Rangayan' Club, the Dramatics Club of the School of Technology, on 11th October, 2014 started with the inauguration of the event by Chief Guests Mr. Brajen Bora and Dr. Hemen Barman, the Judges of the competition Mr. Babul Thakuria and Mr. Surendra Medhi and Dr. Manoranjan Kalita, Principal.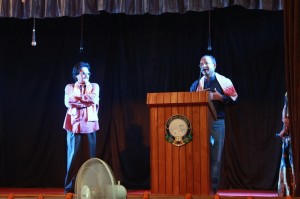 It was followed by the floral tributes paid to Srimanta Shankardev, Rupkonwar Jyoti  Prasad Agrawala, Kalaguru Bishnu Prasad Rabha and Dr. Bhupen Hazarika, by all the presented dignitaries. The competition was declared open by popular Assamese actor Mr. Hiranya Deka.
Eminent personalities like Mrs. Bijoya Chakravarty,  Hon'ble M.P, Guwahati, Dr. Joy  Prakash Das, singing sensation and youth icon Zubeen Garg also graced the occasion with their august presence.
Cultural Affairs Minister of Assam, Mrs. Pranatee Phukan couldn't make it to the function but sent her best wishes with a message: "Drama plays an important role in one's life. It can lift someone's morale, change their mood and motivate them to do well. I am sure the drama competition organized  by Don Bosco College of Engineering and Technology will provide the much needed impetus to those who nurture a passion for drama," which was read out by the Principal, Dr. Manoranjan Kalita.
Among all the participating teams, the team of Don Bosco College of Engineering and Technology won the 'best play' award for the play titled "Mora xutir jiya xaaku" followed by Assam Engineering College with the First runners-up award while Tihu College bagged the Second runners-up award. The other awards were as follows:
Best actor-Jintu Kumar Kashyap,Tihu College
Best actress – Panchita Saikia , D.B.C.E.T
Best Director- Lakhi Talukdar.
The programme ended with the formal prize distribution after which Zubeen Garg enthralled the audience with his melodious voice.