The Department of Psychology and Counselling (ADBU) completes 3 years on 12 September, 2015.  Celebrating its Foundation Day, the Department organized a two day Counsellor's Meet on 19 – 20 September, 2015 at the Azara Campus. The Programme was attended by various eminent psychological counsellors from Assam.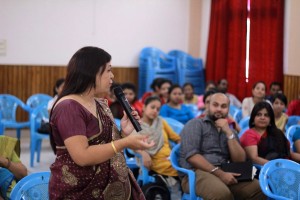 In his welcome speech, Fr. (Dr.) Stephen Mavely, Vice- Chancellor emphasised on 'training more students in the discipline of psychology to promote positive attitude and foster a society which is mentally sound'.
Dr. Sangeeta Goswami, President, MIND INDIA delivered a lecture titled "Scenario of Counselling in North-Eastern States of India", followed by a vibrant discussion on the developments and future of Counselling in this part of the country.
Dr. Riju Sharma, Director, Schol of Humanities and Social Sciences & Head of the Department  of Psychology introduced the North-East Counsellors Association (NECA)  with the aim of serving as a platform to develop the profession of counselling  in the North-East.
The Foundation Day's celebration was followed by a two day workshop titled "Skill Based Workshop for Counsellors on Psychological Assessment of Child and Adolescent ". The workshop was facilitated by Mr. Ranjan Kumar, Clinical Psychologist currently working in Lokopriya Gopinath Bordoloi Regional Institute of Mental Health, Tezpur. The workshop was attended by 34 participants from Don Bosco University, Gauhati University and few School Counsellors working in Guwahati, Jorhat and Jagiroad.