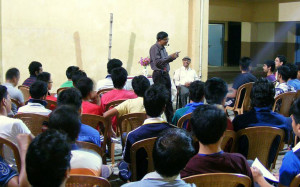 Following on "effective study methods" yesterday by Dr Basil Koikara, another batch of 70 hostel students had an hour long session conducted by Mr. Adrian Rosario former Diversity Communications in IBM India HR and Guest faculty at Assam Don Bosco University, 27 March 2014 at Burns Hall – PG Hostel.
Mumbai based Mr. Rosario touched upon soft skills that should distinguish DB students. Starting with creating a "positive first impression" Mr Adrian demonstrated the way to give a good hand shake, as well as body posture and non-verbal communication that gives one "the edge over others" in a job interview situation.
Mr Rosario also insisted that students need to be alert, confident and be prepared with an excellent resume (bio-data).
The
same sessions are planned for two more batches.