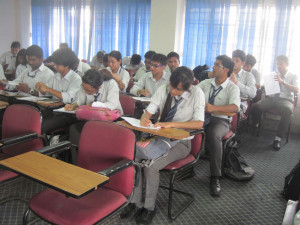 Fifth Semester students of Computer Science Engineering paid a visit to ADGP (C.I.D.) office, Guwahati as a part of an industrial visit on 26th August, 2014.
CDAC, Kolkata has undertaken a project to identify criminals based on handwriting in collaboration with C.I.D. Assam under the supervision of Dr. Amit Chaudhury and Mr. Asok Bandyopadhaya of CDAC, Kolkata.
Forensic Dept. of Assam and Don Bosco College of Engineering and Technology play integral parts in this project and DBCET students helped to collect data for the first phase of the project.
Students were given demonstrations on various cybercrimes and some of the detection methodologies and consequence of crimes by Mr. Aswini Kumar Kalita, Inspector of Police, C.I.D. of Assam.
DBU students were accompanied by Mr. Arup Baruah and Ms. Bobby Sharma.