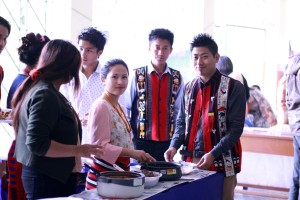 The department of Social Work organized Community Self Help Week from 25– 30 January to raise funds to help educate the neighbourhood children.
The Vice-Chancellor of Assam Don Bosco University (ADBU) Dr Stephen Mavely and Prof. D.K. Bhattacharjee of Computer Science Department Tezpur University inaugurated Community Self Help Week, 25th January at ADBU Azara campus.
Speaking at the inaugural function Fr. Mavely highlighted the sense of "students getting involved with the people of the neighbourhood and help them to help themselves."
"The second annual Community Self Help Week event is organized to support Swastyayan – the outreach programme of the University to educate the neighbourhood children," said Director of School of Humanities and Social Sciences, Dr Riju Sharma.
Swastyayan project started in 2013 has today around 130 students studying in classes 8, 9 and 10. They receive free tuition from some 50 University Student and faculty volunteers who teach in batches every evening Monday to Friday basic subjects like English, Maths and Science.
During Self Help Week, after the regular morning classes, each day the programme began with different fund raising activities such as challenging fun and chance games like car race, fishing, tailing the donkey, lighting candles, car wash, Karaoke, lottery, share-a-pakoda, momo, and ethnic food fest.
The fund raising week ended on 30th January with a cultural evening honouring Don Bosco the patron saint of the university.