A group of Indian and Irish college students experimented with low cost cartoon medium to create community awareness on social issues and published the same in a book entitled: Comics for Social Change.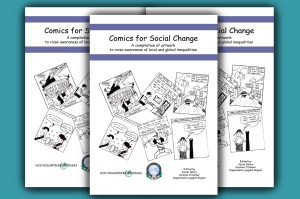 Over fifty students attending a Cartoons for Social Change Workshop produced four frame cartoon sketches on urgent social issues plaguing the villages, such as: child rights, domestic violence, education, environment, gender, health, livelihoods, social services, politics, and society.
The 60 page sleek book, Comics for Social Change contains a compilation of the comics drawn by students from University College Dublin Volunteers Overseas (UCDVO) from Ireland and students from the Masters in Social Work department of AssamDonBoscoUniversity (ADBU).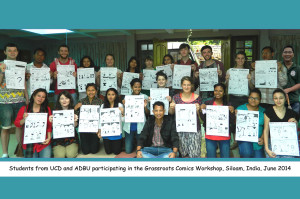 Eleven students of social work from ADBU and UCD had a month long experience of living together, working together and trying their hands at participatory development activity in the villages around the university campus at Azara.
Commenting on the volunteers' work ADBU Vice Chancellor Dr Stephen Mavely says, "awareness… immersion… activism… three key concepts that describe the progression of involvement of a typical social worker as he/she tests the waters and their theoretical knowledge in real life situations… It was a pleasure to see the volunteers deeply committed to their task."
Complementing the work, the Vice Chancellor adds, "Comics for Social Change' is 'activism' at its best. It takes one beyond the limitations of language, race, colour, religion, and all the other barriers we erect between people and people."
Assistant Professor Jacob Islary, Miss Caroline O'Connor and student Dupphidalin Lyngdoh coordinated the cartoon book project along with 50 students whose cartoons are featured in the book.
"Grassroots Comics is a simple yet powerful medium to spread awareness on various issues, as well as to let them express their story. These comics can be made on any issue or around any story. This means that anybody who has something to share and willingness to draw can make such comics. This publication voices the same," writes World Comics Network founder Sharad Sharma in the forward to the book.
World Comics India head, talented and enthusiastic comics trainer Amrith Basumatary who trained the student volunteers says, "Use humorous cartoon figures to present important messages on social justice. They are drawn by individuals and community groups who are experiencing or aware of certain social injustices, therefore making them different from mainstream comics."
The Indian volunteer coordinator Assistant Prof. Jacob Islary says, "Unlike other communication tools, cartoons present the realities experienced in daily life events in a way which is creative and engaging."
"The comics primarily highlight local issues and are therefore able to attract the attention of the community members, as they too can relate to the stories from their own experience and make meaning out of it. The audience frequently engages in debate based on the stories they see in the comics," says coordinator of the UCD team Caroline O'Connor.
Each of the 50 comics uses four windows to tell a complete story. The windows contain cartoon images with relevant text telling the story in such a way that even an illiterate person can understand the message and make meaning out of it.
Comics are drawn in black and white making it affordable for photocopying and circulating to a large audience. Once photocopied, the comics can be displayed in various locations throughout a community such as bus stops, market places, shops, schools, and notice boards.
Grassroots Comics began as a movement by likeminded cartoonists, development journalists and activists in an effort to use the art of comics as a communication tool for generating awareness of social issues in India. However, as other countries have started adopting this as a campaign tool, it has now become a global movement for social change. Grassroots Comics is perhaps most popular among organisations and people working in the development sector.
The ADBU department of Social Work has been organising workshops on Grassroots Comics since 2012 for its students and faculty.