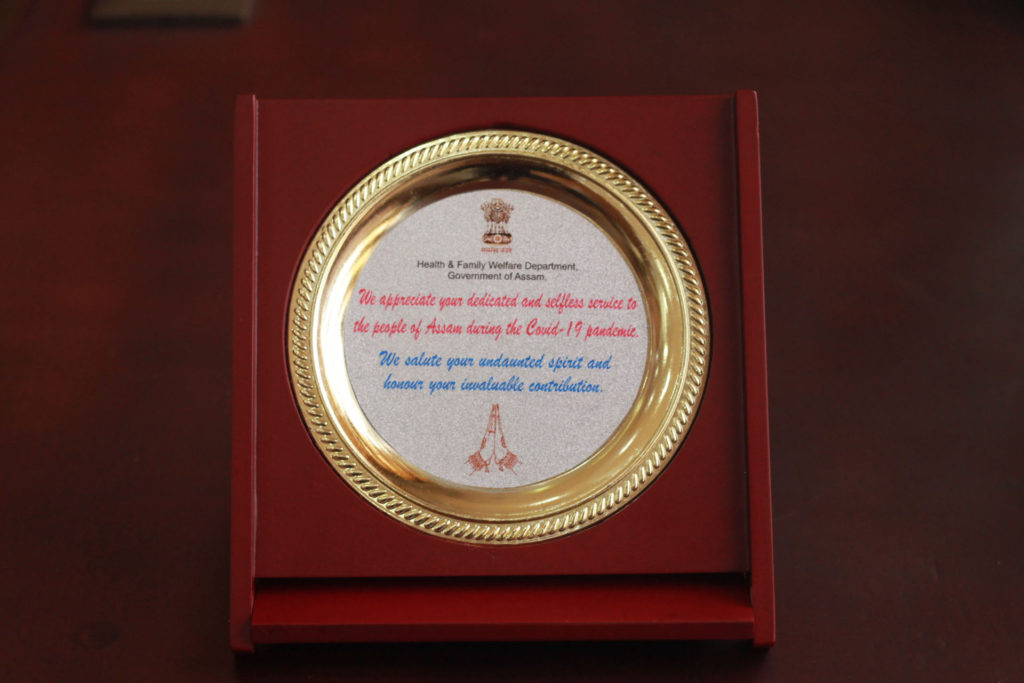 The University is glad to share with you the Appreciation Certificate and Plaque we received from the Dept. of Health and Family Welfare, Government of Assam in recognition of the University's contribution during Covid19 pandemic. The Certificate reads "The valuable contribution made by your esteemed institution in the fight against Covid19 in the State of Assam will be remembered for posterity. The Department of Health and Family Welfare, Govt. of Assam takes utmost pride in honouring your distinguished institution as a mark of gratitude on behalf of the people of Assam"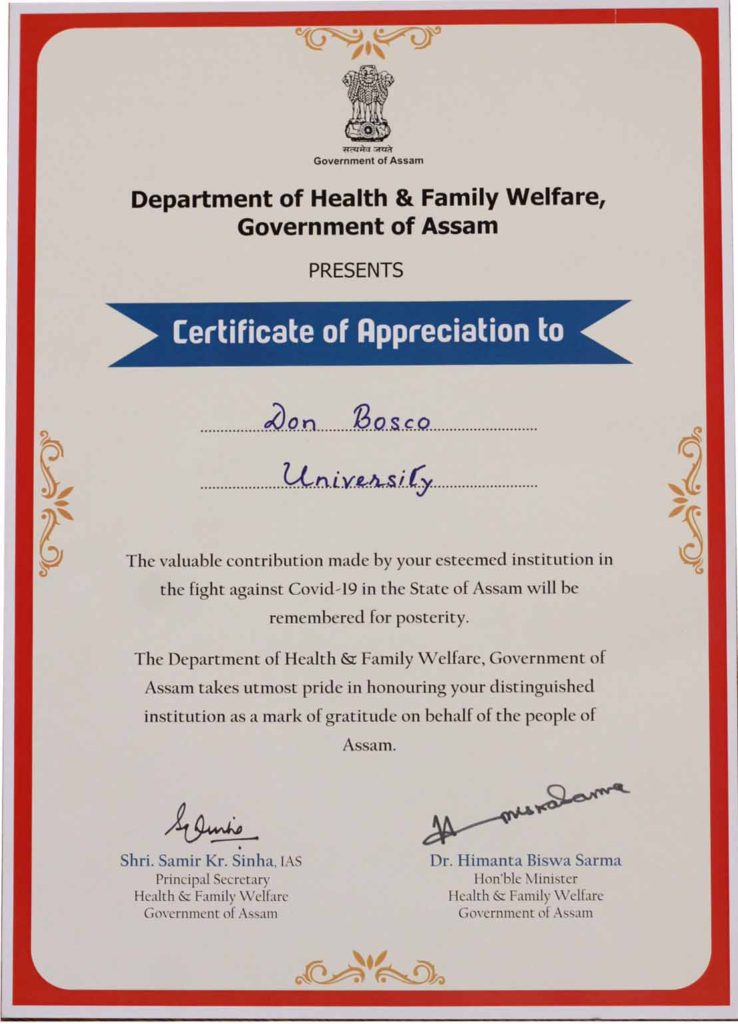 Apart from providing Academic Block II at Tapesia Campus as a 350 bedded Covid19 Care Center, the University reached out in various ways as given below.
Distribution of Food Packages
With many families being forced to stay at home to prevent further spread of Covid19, a new challenge was afoot – shortage of food. The University got permission from local authorities to distribute food packages to those who needed the most. Families were identified by the local authorities, food packages were prepared by volunteers from the University and were distributed to 1500 families. Food packages were also distributed to stranded construction workers and tea garden workers. The villages covered are Hatimura, Upper Tapesia, Amgdin, Belguli, Bamunkhat, Khulkhuria, Uralbasti, Sonaru Batali, Laflonggaon, Damrapathar, Hirapara, Ghogua, Hohara and Somata under Sonapur Circle and Keotpara under Azara Circle.
Counselling Services
Due to the outbreak of COVID-19, the concern for mental health rises sharply due to the unprecedented stress, anxiety and uncertainty among people of all walks of life. As a response to this situation, the University's Department of Psychology and Counselling stepped up in providing mental health services through tele-counseling in collaboration with DHARA HELPLINE, receiving calls from the COVID19 front liners fraternity. The tele-counselors had also attended training and discussion sessions on tele-psychology and tele-counseling hosted by Global Pandemic Response Forum under eminent psychologists and psychiatrists prior to volunteering for this service. The Department of Psychology and Counseling has a faculty strength of 3 Clinical Psychologists, 3 Counseling Psychologists/ Psychotherapists and a Special Education Trainer (Ph.D) promoting mental wellness.
Online Classes and Examination
At the outset of the outbreak of Covid-19 and the beginning of lockdowns, the University immediately took action and started conducting online classes through various platforms including Zoom, Google Meet, Cisco Webex etc. With the admission season caught up in the middle of this pandemic, entrance tests platforms were designed quickly and entrance test for BTech, MTech, MCA and MSW were conducted successfully. Following the UGC's Expert Committee's recommendations and guidelines regarding examinations in the Universities, the University immediately took steps without a pause and successfully conducted online examinations for its final semester students using the University's Online Examination Portal and mobile app designed for the examinations.