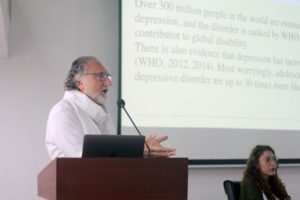 A Certificate Course on Neuropsychology and its Applications was organized by the Department of Psychology and Counselling in collaboration with experts from the University or Parma, Italy and Excelcare Hospital, Guwahati on 30th September – 5th October 2019 at Tapesia Campus.
At the inaugural session, Fr.(Dr) Stephen Mavely, the Vice Chancellor highlighted the contribution of the university to the communities surrounding the university through the Community Counselling Center and appreciated the initiatives and voluntary services being rendered to the neighbouring villages by the Department of Psychology and Counselling.
In his keynote address, Prof. Roberto Ravera, Founder and Director of Ravera Children Rehabilitation Center, shared his experience of dealing with children in Africa who had been traumatized, neglected and faced abuses of various levels. He gave a presentation on the works that Ravera Foundation have been engaged in setting up Children's Home and helping these kids deal with various challenges they are faced with. He emphasized on the study of trauma from the neuropsychology perspective where there are many new challenges as the society changes and progress. He also reminded that, psychology is a heuristic science where the complexities of human thoughts, emotions and behaviors are influenced and changed by environment and a new avenues of research and studies are open up to understand that complexities. He encouraged the participants to go out of the box and experience the complexities of human world and contribute our effort in bringing about a change for the wellbeing of human life.
Dr. Virginia gave a brief outline of the aims and objectives of the course. She explained about the multidisciplinary approach of science to understand human problems. The main aim of the course was to understand how the genetic makeup of a person influences and changes the psychological as well as the physiological aspect of a person. By understanding the anatomical and functional aspect of the nervous system, one can understand the causes of various mental illnesses as well as their behaviors, thus the course is undertaken to highlight the relationship of the human body and environment in the wellbeing of a person.
Fr.(Dr) Biju Michael, the Registrar gave a concluding remark by sharing that ethics take a reverse approach to neuropsychology in the understanding of human cognition and behaviors. He also mentioned about the relation of human intelligence with emotional intelligence in the way we process our thoughts and connecting it to feelings.
During this one week course, various lectures and discussions on child development and developmental disorders, state of mind, mindfulness, self control, mentalization, nature and nurture, the nervous system of the human body, anatomical systems, biological systems, genetic clusters, trauma and attachments, etc were held. These lectures were conducted by Professor Roberto Ravera and Dr. Virginia Ravera. On the last day Dr. Anweshak Das (Consultant Psychiatrist) gave a lecture on 'The Bridging Gap of Neuropsychiatry and Neuropsychology'.
The course was attended by 44 participants from various parts of India.