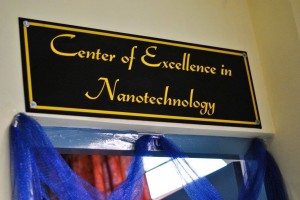 With plans to be the leader in nanotechnology research in North East India, a Center of Excellence in Nanotechnology (CoEN) was inaugurated at Assam Don Bosco University (ADBU) on the 11th of January 2017 at the School of Technology, Azara Campus by Fr. Stephen Mavely, Vice Chancellor, and Prof. Barbara Karn, Executive Director, Sustainable Nanotechnology Organization, USA.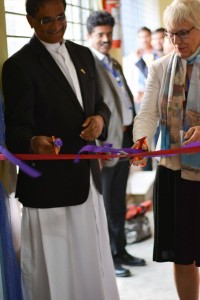 The CoEN will focus on research in Nano-sciences and Nanotechnology leading to industry-ready technology/products, development of human resources for implementing nanotechnology through interdisciplinary research, initiate strong interactions leading to collaborations with leading academic institutions and industry for innovations, setting up of a state of the art nanotechnology characterization lab with facilities like Scanning Electron Microscope, Transmission Electron Microscope, X-ray diffraction spectroscope, Photoluminescence Spectroscope, Raman Spectroscope, Inductively Coupled Mass Spectroscope, Gas chromatograph, etc., design and fabrication of basic instruments for nano fabrication and characterization.
The CoEN will advocate the concept of Poor Man's Nanotechnology and assist other institutions in setting up basic Nanotechnology research labs. The CoEN plans to set up a library (both printed and electronic) of nanotechnology related books and research publications, organize International and National Conferences, Symposiums, Workshops, etc. and support researchers in submitting research projects to funding agencies.
Speaking on this occasion, Prof. Sunandan Baruah, Head of the Department of Electronics & Communication Engineering, Assam Don Bosco University, informed the efforts put in over 3 years to build up the Center, and that his research group had designed and built a number of instruments for nanomaterial synthesis, characterization and device fabrication which are now a part of the CoEN. Prominent scientists and academicians present during the inauguration included Prof. Klaus Leifer from Uppsala University, Sweden, Prof. Tarashankar Pal and Dr. Anjali Pal from IIT Kharagpur, Dr. Chanchana Thanachayanont and Miss Phetcharaporn Ninwilai from National Science & Technology Development Agency, Thailand, Dr. Somobrata Acharya from Indian Association for the Cultivation of Science, Kolkata, Fr. Joseph Nellanatt, Pro-VC, Assam Don Bosco University and Prof. Manoranjan Kalita, Director, School of Technology, Assam Don Bosco University.
Nanotechnology is the technology of the 21st century and is considered by many as an industrial revolution as it has made a horizontal impact traversing across all types of vertical industrial sectors like computers, telecommunication, agriculture, pharmaceuticals, aerospace, defense, construction, energy, to name a few.