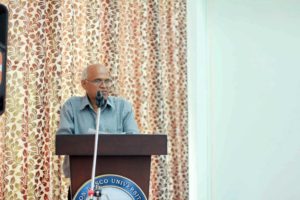 A 15 day Capacity Building Programme for faculty members of Social Sciences, sponsored by ICSSR, New Delhi was organized at the University's Tapesia Campus from 1-15 July 2018.
Addressing the participants at the inaugural session, Dr. Joshua Thomas, Deputy Director, ICSSR, North East Regional Center said, "A rich diversity, culture, and being located at international boundaries at three fronts make North East India a perfect place for social science research. Our identity and ethnicity which is the backbone of NE can be a useful tool for developing a system thinking, both as an insider and an outsider. Try to develop a habit of reading your area, be a compulsive reader and in turn become a compulsive writer and thinker….Look for new avenues of research, give a lot of importance to academic writing to maintain a high standard and vigour in research. We have to work hard because as a saying goes 'If you want to shine, you have to burn'."
The entire capacity building programme comprised of 45 sessions excluding the Inaugural and Valedictory sessions stretching over 62 hrs and 58 minutes. These sessions were guided by 10 experts and people of eminence in their own field:
| | | |
| --- | --- | --- |
| Sl. No | Name | Theme of Deliberation |
| 1 | Prof. Dhruv Raina JNU, New Delhi | Development of Inter-disciplinary Research and Inter-disciplinary Approaches in Social Science Research. |
| 2 | Prof. Rohit Dwivedi IIM, Shillong | Module on Narrative Analysis |
| 3 | Prof. Walter Fernandes NESRC, Guwahati | Formulation of research problem in qualitative research and Qualitative study research designs and methods |
| 4 | Prof. Vinayak Srivastava An.S.I. | Models and theories and Analysis of Qualitative Research |
| 5 | Prof. A.K. Thakur NEHU, Shillong | Methods of data collection and Sample selection |
| 6 | Prof. Francis Fernandez ADBU, Guwahati | Fundamentals and essential of research and research Ethics |
| 7 | Prof. Biju Michael ADBU, Guwahati | Philosophical dimensions of Research and Review of literature, |
| 8 | Prof. JN. Vishwakarma ADBU, Guwahati | Importance of research and challenges therein & Research Proposal Writing |
| 9 | Dr. Rashmita Baruah ADBU, Guwahati | Statistical Techniques and tools (PSPP & Excel) |
| 10 | Prof. K.C. Kapoor ADBU, Guwahati | Hypotheses and Quantitative research designs |
The Resource persons were selected on their command over the subject but most importantly on their availability and willingness to spend at least 3 to 4 sessions with the participants for serious deliberations and academic engagements. Right at the start of the first session, the participants were administered the pre-test and towards the end of the session a post-test to assess the level of learning and the outcome of the 2 weeks programme.
On the completion of a week, the participants were taken for a field trip to Kalashatra – a cultural museum for inter-cultural learning. The participants also presented research proposals with two panel of experts who assisted, directed and guided the presenters.
On the whole, the two week programme saw active academic rigour and engagements which gave insights into the new avenues of research in social sciences and encouraged the participants to build new theoretical constructs that can inform further research.