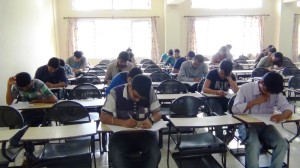 DataManthan, a Guwahati based Software Development Organization engaged in IT projects related to information mining, online advertisements and Consultancy, conducted campus recruitment today at DBCET.
The recruitment drive aimed at recruiting candidates for web technology based application and Android Applications.
A good number of final year students of B.Tech, MCA and M.Tech appeared in this recruitment test and the result will be announced within few days. The university conveys its sincere gratitude to DataManthan for conducting the test in our campus and also wishes best of
luck to the candidates.