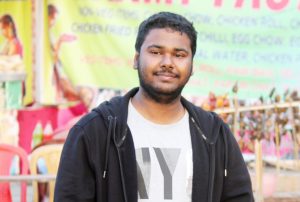 Mr. Indrajeet Bhuyan, a student of Computer Science and Engineering and an independent researcher in cyber security has been invited to be one of the invited speakers at Nullcon 2018 to be held at Goa.
Nullcon is a cyber-security conference, held annually in India (either in Delhi or Goa) where internationally renowned cyber security experts share their research and concerns, as well as new developments in this area.
Indrajeet Bhuyan is the youngest and only college student to be an invited speaker.
He said that he will be focussing on increasing the importance of security in critical sectors, such as banking. He would like to make people understand the significance and criticality of security of personal details and banking transactions. In addition, he will also highlight the challenges faced by security researchers while reporting security lapses.
Earlier, he had reported a security flaw in Whatsapp by exposing the lapses in user privacy through a code of 2kb which could crash Whatsapp and potentially affect 500 million users. In August 2015, he identified a flaw in the Indian banking system affecting 20,000+ Indian banks through which an attacker can see the bank balance and transaction history of anyone. His work on banking flaw got selected in Ground Zero Summit, Asia's foremost information security conference 2015.
He has also been invited by various international security conferences like, Toorcon California, Andsec Argentina etc. and has contributed significantly towards cyber security for various organizations such as HTC, Samsung, Photobucket, Reverbnation, TVF etc. He has been featured in various national and international news portals such as International Business Times, Russia today, Times of India, Digit, Kaspersky, The Independent, India Today, etc. for his work.
In spite of his young years, Indrajeet Bhuyan has been acknowledged as one of the best Security Researchers, an increasingly significant expertise in the country by North East Today.
The 2018 Nullcon conference on 2nd-3rd March will be held at Goa and will be inaugurated by Mr. Rajeev Chandrasekhar, Member of Parliament, Government of India. This year the event is sponsored by Google, Microsoft, Adobe, VISA, Vmware , Walmart labs etc. and will be attended by speakers from leading organizations such as Google, Axis Bank, Mumbai Police, Airtel, VISA, Reliance, NPCI, ISRA, CERT-IN, Flipkart and Microsoft etc.