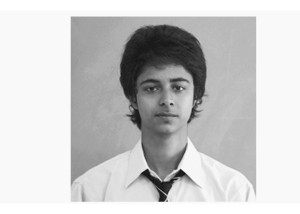 Guwahati, 3rd April 2014: Bhaskar Jyoti Chakravorty student of Assam Don Bosco University, Don Bosco College of Engineering and Technology at Azara, died this morning at Hyatt Hospital Guwahati. On his way home yesterday (Wednesday) evening while turning at a median opening close to the college on NH 37 he was knocked off his motor bike by a rope that was put across due to VIP movement.
Rushed to the hospital and kept in ICU Bhaskar, 19 years, died Thursday morning. He was a student of 2nd semester Mechanical Engineering at DBCET.
During a 20 minute memorial prayer service at the morning assembly on Thursday, Vice-Chancellor, staff and classmates shared memories of Bhaskar and prayed for the repose of his soul and bereaved members of the family. The classes were adjourned for the day.
Soon after the assembly Bhaskar's photo came on the digital display screen and students stayed back in clusters recalling memories of Bhaskar.
Bhaskar is the son of Dilip and Bhanita Chakravorty of GandhiBasti, Guwahati.
Bhaskar's mentor at ADBU Asst. Prof. Pallav Gogoi remembers him as "obedient, adventurous and highly polite student."
Principal Prof. Manoranjan Kalita who was in the hospital this morning informed about the death of Bhaskar.