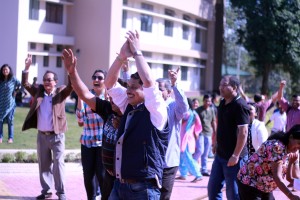 The University's faculty and staff on 26th November gathered at Tapesia Campus for Appreciation Day. In the tradition of Don Bosco University, this is the day the University conveys a sincere thank you to each and every one of its staff and faculty, who have been giving their best. Whether it is driving the vehicles or facilitating learning in a classroom, each contribution makes the University what it is today – a rising center of excellence in education.
The day long get together began with readings from Bhagavad Gita by Ms Nabamita Das & Mr. Nikramjit Goswami, Holy Quran by Mr. Hamidur Rahman, Holy Bible by Ms Usha Mary and Ms Reena Kumari. After the readings, Fr. Stephen Mavely, the Vice Chancellor offered thanksgiving prayer and the formal gathering ended with a group song performed by the University's Choir.
After tea break, various games and entertainment followed which included a tug of war, fishing competition, group dance, drama, solos etc.