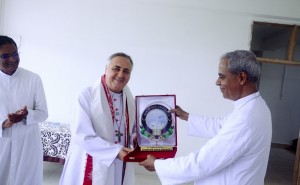 On Wednesday evening, 15th June 2016, His Excellency Archbishop Salvatore Pennacchio, the Apostolic Nuncio to India visited the Tapesia Campus of the University.
During his visit to the new campus of the University which is being developed, His Excellency interacted with the University management and administrative heads, architects, contractors and construction workers.
In a short get together held at the upcoming Salesian residence, the Vice Chancellor Fr. (Dr.) Stephen Mavely gave a brief presentation on the vision and mission of the University, courses being offered and the rationale behind each programme started by the University, and also presented the university developmental plans in the years to come.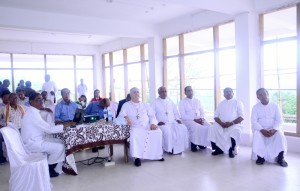 Expressing his appreciation of the developments which had been achieved in the past by the University and the tremendous amount of work done for the development of the new campus, His Excellency said, " I am happy to see that the University is focussing on transforming lives through Social Sciences and socially and scientifically relevant research areas".
He also congratulated the University for 'careful utilisation of funds made available to the University' and added, " I promise to keep supporting the University Project".
His Excellency also met the students of International Volunteer Exchange Programme, 10 students from University College Dublin and 13 students from Don Bosco University, who are working in Ural and Tapesia villages, teaching English to the children and helping the villagers through a variety of social interventions.
Addressing the Volunteers His Excellency said, " I love being with young people, so I am here. I admire your spirit of volunteerism and wish you all the best as you continue the good work".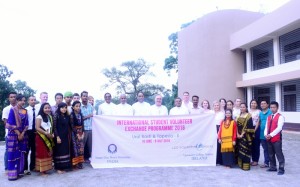 Before leaving the Campus, His Excellency also promised to come back for the inauguration of the Campus.
His Excellency was accompanied by Archbishop John Moolachira and Don Bosco Provincial of Guwahati, Fr. VM Thomas.