The Assam Don Bosco University (ADBU) had a visit from the one and only member of the Antartica Expedition 2013 from Northeast India.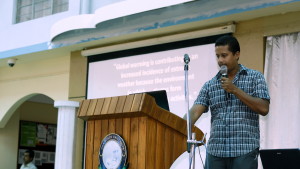 Mr. Rituraj Phukan from Nagaon (Assam) was part of 30 member international expedition organized by legendary Robert Swan who is the only man who has walked both to North and South Poles. Mr. Rituraj Phukan who joined members from 18 countries in Robert Swan led "Inspire Antarctic Expedition 2013" addressed the ADBU students and faculty during an hour long morning session, 29 August. He spoke on "Environmental Protection and Climatic Change" with illustrations and a short film on the expedition. Mr. Phukan travelled to Antarctica last April as a team member on the 2041 Organization to complete the 'Leadership on the Edge' personal leadership and environment sustainability program. 2041 Organization takes its name from the year 2041 when the Organization for the Conservation of Antarctica will come up for review. Explaining the consequence of global warming and climatic change on Antarctica the last great wilderness on earth Mr Phukan said, "if the Antarctic ice melts inordinately, firstly we will have "climate refugees" who
will flood into Assam from neighbouring Bangladesh." Secondly, the climatic change will affect Assam's tea industry. Thirdly the climatic effect will cause the Himalayan Glaciers to melt and flood the rivers originating from there.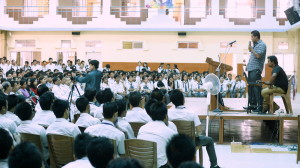 Answering student question what they could do to help contain the depletion of the ozone layer Mr Phukan spelt out very practical daily action such as not to waste energy and fuel (electricity, oil) and to control wastage of paper which students carelessly throw away. Mr. Phukan's selection as one of 30 persons from among thousands of applicants worldwide reflects his dedication and grassroots based environment & wildlife conservation efforts. Since 2001 as the Secretary General of Green Guard Nature Organization, a Nagaon based NGO he has taken community based initiatives for habitat protection, man vs animal conflict mitigation, anti poaching awareness, promotion of recycling, and tree plantation. Mr Phukan also invited adventurous students to join the next expedition scheduled to leave on 8 March 2014, from Ushuaia, Argentina. Since 2003, Robert Swan and his team 2041 has taken selected people from the corporate, academic & environment fields to Antarctica, to gain first hand knowledge of the continent's fragile ecosystem, experience its unique wildlife, the effect of global warming and climate change and how they can be countered by promotion of recycling, renewable energy and sustainability.