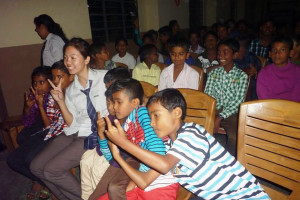 The students and faculty from the School of Technology and the School of Humanities and Social Sciences organised Second Annual Day programme for children of the locality on 20th November in the college Auditorium.
The auditorium was packed with some 200 children from the neighbourhood, their parents and the volunteers to mark the second annual day of Swastyayan, a daily coaching class for senior students of High School and HigherSecondary Schools.
Among the guests present were the Pro Vice-chancellor Fr. Joseph Nellanatt, Dr. Manoranjan Kalita Principal, Registrar Dr. Basil Koikara, Administrator Dr. Peter Paul and Director of the School of Social Sciences Dr Riju Sharma.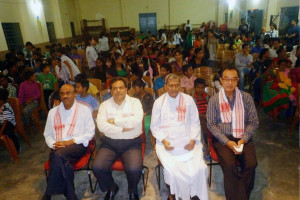 Swastyayan is an initiative by the B.Tech and MSW Departments of ADBU under taken by over 100 student volunteers and faculty.
They dedicate their time, Monday to Friday, mainly to help the children in their studies and motivate them to be good citizens through various animation programmes.
The subjects taught include: Science, Social Studies, Mathematics, and English.
The Pro Vice-chancellor Fr. Joseph Nellanatt in his speech congratulated the volunteers for giving their valuable time in the service of the children, and encouraged tuition kids to study well.
The students were given prizes for different activities such as attendance for the classes, poetry writing, and other competitions organized during the course of the year. Besides these there were songs and dances performed by the students.
The students were also given the opportunity to show off their talents in singing and dancing.
Earlier in the day, two senior girls addressed the ADBU morning assembly of some 1,000 students on the occasion of the Child Rights Day winning thunderous applause from Engineering students.