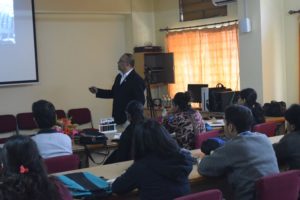 Amazing Nano 2018, a one week National Workshop on Nanotechnology was organized by the Center of Excellence in Nanotechnology together with the Department of Electronics and Communication Engineering, Assam Don Boco University from 29th January till 3rd February 2018.
Apart from ADBUs own resource persons, sessions were also conducted by Prof. Gabor Louis Hornyak from Asian Institue of Technology, Thailand; Prof. Achintya N. Bezbaruah from North Dakota State University, USA; Prof. Somobrata Acharya from Indian Association for the Cultivation of Scienc; Dr. Hassan Mujtaba Jafri from Uppsala University, Sweden; Prof. Pranayee Datta from Gauhati University, Dr. Pabitra Nath and Dr. Shyamal Kumar Das from Tezpur University and Mr. Arup Borah from Indian Institute of Information Technology, Guwahati.
Out of the 6 days, sessions for 4 days including lab sessions were conducted in the Azara Campus of and one day each at Tezpur University and IIT Guwahati.
The workshop was organized in collaboration with Tezpur University and Indian Institute of Technology, Guwahati with financial support from STPI, Guwahati and NIELIT Guwahati.