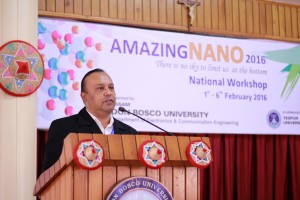 The Electronics & Communication Engineering Department of Assam Don Bosco University in collaboration with the Department of Physics, Tezpur University successfully conducted a week-long workshop on Nanotechnology titled 'amazingNANO-2016' from 1-6 February 2016.
The workshop was the second in series (the first being imagineNANO-2015 held last year) and was organized to provide a unique platform to the young and enthusiastic researchers especially from the north eastern part of India. Aimed at getting the participants initiated into the latest in Nanotechnology expanding around the world, through natural analogies, theoretical concepts, practical sessions and logical analysis.
Among the experts in this field who gave lectures during this Workshop were Prof. Sunandan Baruah of Assam Don Bosco University, Dr. P. Deb, Dr. G. Ahmed and Dr. S. Das from Tezpur University; Prof. Utpal Bora from IIT Guwahati; Prof. Pranayee Dutta from Gauhati University; Prof. Louis Hornyak from Asian Institute of Technology, Bangkok; Dr. Hassan Jafri from Uppsala University, Sweden; Prof. Achintya Bezbaruah from North Dakota State University, USA; and Dr. Pankaj Thakuria from Forschungszentrum Jülich, Germany.
The participants included students and researchers from Gauhati University, North Eastern Hill University and Assam Don Bosco University. The participants had an ample opportunity to interact with renowned research persons in different areas of Nano-science and Nanotechnology.
The Vice Chancellor, Fr. Dr. Stephen Mavely, while giving out the certificates in the valedictory function, expressed his appreciation and the initiatives taken by the organizers of the workshop and hoped that 'North-East India excel in research in nanotechnology'.