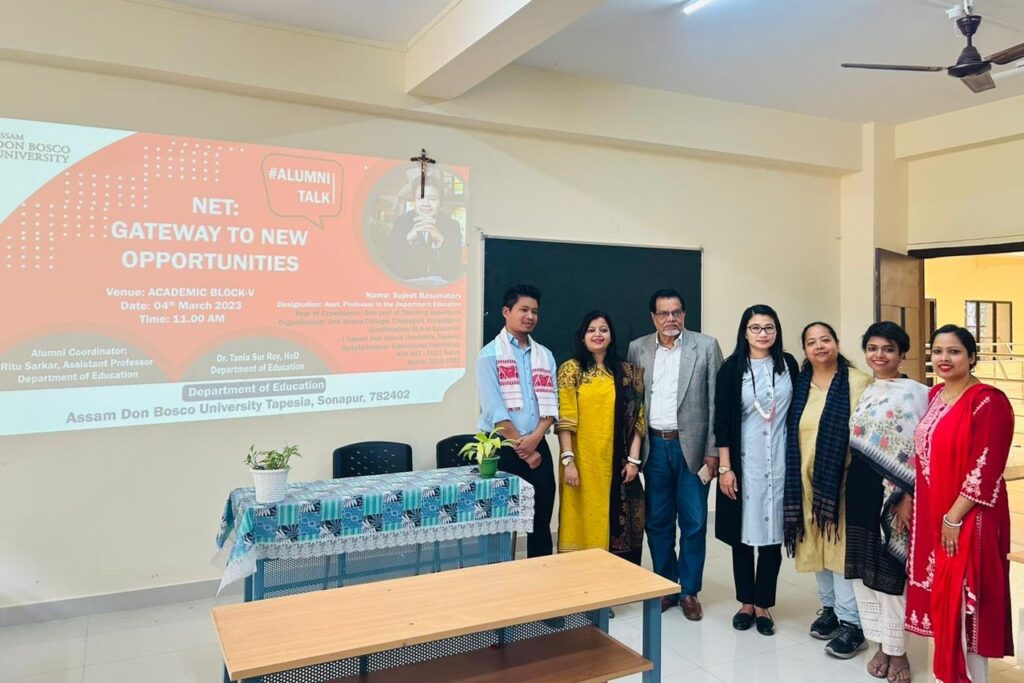 The Department of Education organized an Alumnus Talk on 4th March 2023 where Mr. Sujeet Basumatary (2019-21 Batch), Asst. Professor, Don Bosco College, Bongaigaon gave a talk on 'NET: Gateway to New Opportunities'.
The objective of the meet was to orient students about NTA NET, its eligibility criteria and how to crack Lectureship and Junior Research Fellowship (JRF) in order to enter in the teaching profession and research.
The session started with a welcome address by Dr. Tania Sur Roy, Head of the Department followed by felicitation of the alumnus. Mr Sujeet Basumatary started the session by elaborating the meaning of NET and JRF, the minimum marks to be obtained according to the different caste and shared his experiences on how he cleared NET examination. He also gave detailed information regarding different career options. The session was informative and interesting and students enjoyed the session and learned many things from the lecture.
During the session, students raised multiple questions and clarified their doubts on NTA NET. The session was hosted by Shirantha Perara (MA Education, 4th Semester) and was attended by the faculty members of the Department as well. The session ended with a vote of thanks offered by Kr.Soching (MA Education, 4th Semester). A letter of appreciation was given to Mr. Basumatary by Dr. Tania Sur Roy, HoD. The programme was co-ordinated by the Alumni Co-ordinator Ms. Ritu Sarkar, Assistant Professor, Department of Education.