GUWAHATI, (C.M. Paul) – A Don Bosco alumnus of international repute was opening presenter at the day long semester opening faculty training program held at Don Bosco University, Guwahati, 17 July.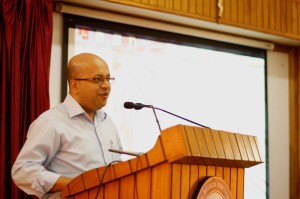 The Vice Chancellor of DBU Dr Stephen Mavely introduced Mr. Subimal Bhattacharjee to participants at the Professional Development Programme as alumnus of Don Bosco School Halflong, Assam.
"Though I have been all over the world, I try to maintain my bonding to the region," Prof Bhattacharjee stated in his opening remarks.
Recalling his days at Don Bosco Halflong he says, "the teachers taught us to speak proper and grammatically correct English. Also the first orientation in Mathematics at school gave us the extra self-confidence and presence of mind."
It was a pleasant surprise for Prof Bhattacharjee to meet his Maths teacher at school in 1986, Dr Basil Koikara currently Registrar at DBU.
He revealed that he belonged to the second batch of students who graduated from DB Halflong in 1988. He also recalled the special bonding that exists among Bosconians that he meets across the globe.
Prof Bhattacharjee gave a 3-hour presentation to the entire DBU faculty on "Digital Technology – relevance, revolution, cyber security.
Human resources director of DBU Ms Juhi Baruah organized the program.
Prof Bhattacharjee, a member of key governmental advisory panels and industry task forces has recently been nominated to the Expert Group on Global Initiatives under the Sam Pitroda Expert Committee to review the functioning of Prasar Bharati. He is a regular columnist and writes on issues related to security and technology policy and has more than 200 published articles.
He was one of the 31 experts appointed by the United Nations in 2008 to set the agenda for the 20 nations Group of Governmental Experts (GGE) that was set up in 2009 to study the impact of cyber on international security.