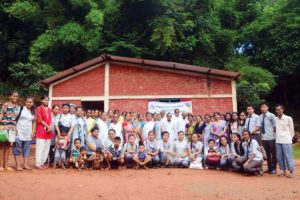 As part of an initiative of the Don Bosco University's Center for Development Studies and Initiatives (DBU-CDSI), the University on 20th July 2017 launched Women Adult Education Programme christened 'Educate to Empower (EE)' at Hatimura Village, under Kamarkuchi Panchayat in collaboration with the University's Department of Education. 15 women registered for the first batch.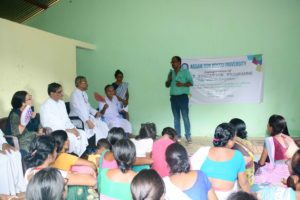 The inauguration programme held at Hatimura Anganwadi Center was attended by the University's Vice Chancellor, Fr.(Dr) Stephen Mavely; Pro Vice Chancellor, Fr. Joseph Nellanatt; Registrar, Dr. Basil Koikara; Shri DA Sarkar, BDO of Dimoria; Panchayat President Smt. Mridula Injal; women of Hatimura village, faculty and students.
The initiative began after the DBU-CDSI had a consultation meeting with the women of Hatimura on 7th April 2017. The women expressed their desire to learn English and requested Don Bosco University to help them achieve this dream. From then on the university has been working on making the dreams of these women a reality.
Two more meetings were conducted with the women of Hatimura village on 20th April and 13th July 2017 to discuss the contents of the programme and areas they would like to focus on. Accordingly, the University decided to conduct a 6 month Certificate Programme in Basic English (Reading and Writing) for the women. Classes will be conducted on every Thursday at 11:00 a.m. The Programme will also include different workshops every fourth week on Career Guidance (enabling them to guide their children), Child Development and Parenting, Nutrition and Balanced Diet, Physical Health (communicable and non-communicable diseases), Mental Health and Human Rights.