Eight member University Grants Commission / All India Council for Technical Education team is concluding their two day visit to Assam Bon Bosco University this afternoon, 30 October.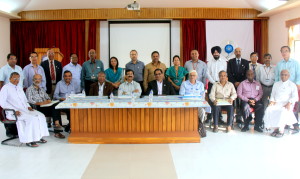 The team hosted at Ashoke Brahmaputra started the visit at 10 am on Tuesday 29 October at the Vice-Chancellor's Office with the traditional Assamese welcome ceremonies and a PowerPoint presentation by Dr Stephen Mavely. After the introductory words by the Team Head, Professor Dhrubajyoti Chattopadhya (pro-Vice Chancellor of University of Calcutta) the team split into three groups inspecting documentation and visiting various labs and departments.
Two groups visited School of Technology and School of Social Sciences respectively and had interaction with students in their class rooms. The MSW students surprised the visitors with a welcome song sung in voices.
In the after lunch session, the visitors met with the faculty quizzing them on academic qualifications, research contribution, project handling, publications and on-going training. The visitors asked faculty members for suggestions the management should implement for the betterment of the students and the institution.
A separate and exclusive session with student reps, including PhD candidates, lasted over 30 minutes.
After tea, the visitors left for the School of Management at Kharguli where besides inspection, the team had interaction with staff and students which concluded with a short cultural program showcasing northeast India. The day concluded with a dinner cruise for the visiting team and ADBU faculty.
The second day started early for the visitors who split into three groups, one headded for the permanent campus site at Tapesia, while other two groups UGC/AICTE came to Azara for further inspection of documentation and report writing.
On return from Tapesia, the team will have exit meetings the VC, and the Board of Management.