Assam Don Bosco University Assoc. Prof. and Head, Department of Electronics and Communication Engineering, Dr. Sunandan Baruah had a fruitful meeting today (19 March, 2014) at TERI (http://www.teriin.org/index.php) with Dr. Priangshu Sharma, a PhD in Microbial Biotechnology and currently working with biofilms.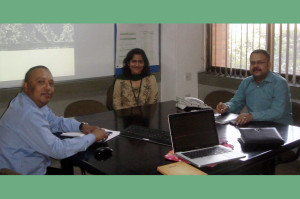 "We had a detailed discussion on areas of possible collaborations along with two of his PhD students. Considering the expertise on both sides, we have decided to start the collaboration with the development of graphitic electrodes for making biofilms," says Dr Baruah.
He adds, "I have already procured a substrate to work on and Dr. Priangshu will be sending me some
more samples for analysis."
Dr Baruah believes, "this collaboration will allow students from both sides to use facilities and guidance from faculty members in joint projects."
In conclusion Br Baruah says, "we have also planned to submit a joint project for funding to DBT."
Base in New Delhi, TERI (The Energy and Resources Institute) was formally established in 1974 with the purpose of tackling and dealing with the immense and acute problems that mankind is likely to face within in the years ahead on account of the gradual depletion of the earths finite energy resources which are largely non-renewable and on account of the existing methods of their use which are polluting.