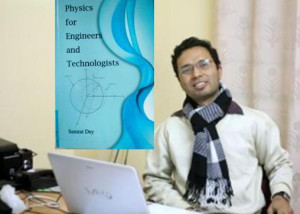 In a rare combination of grit and tenacity, assistant professor at Assam Don Bosco University School of Technology Dr Samrat Dey has just published a text book entitled "Physics for Engineers and Technologists." The 260 page book published by Eastern Book House Publishers Guwahati has a very useful 3-page subject index for easy reference.
Dr Dey says, "the students of Engineering and Technology will not only find all the required topics in a single book in the simplest language, but also get the taste of the level of discussion that are similar to standard text books of specialized topics. Lt also covers topics of Physics like Wave Optics, Electromagnetism and Electromagnetic Waves, Relativity and Quantum Mechanics and its Applications."
The book also discusses some research related problems and some open questions as food for thought for students, apart from a large number of solved numerical problems.
Writing the foreword to the book, Dean of the School of Physical Sciences and former HOD of Physics at NEHU says, "I am very confident that the book will not only be very fruitful for a clear concept of physics to the students of Engineering and Technology, but will also be a valuable teaching aid to the teachers who wish to teach physics beyond simple formulae."
Critical discussions given after the units, e.g., Electromagnetism and Electromagnetic Waves, Quantum Physics and Application, etc., are very unique and fruitful and initiate a temperament of further study and research.
Earlier this year, India's largest Research & Branding Company, has announced the name of Dr. Samrat Dey, Assistant Professor of Physics, AssamDonBoscoUniversity, as one of the winners of the 2nd Academic Brilliance Awards 2014 for faculties of colleges and universities.
Dr. Dey has been selected in the 'Special Mention – Young Faculty' category which recognizes outstanding contributions made by a faculties at relatively early stages in their careers that include contributions and achievements in teaching, research and other activities.
Dr. Dey did his M.Sc. (Physics)
viagra price
,
buy cialis
,
viagra online
,
buy cialis
,
discount bulk cialis
,
buy cialis
,
buy viagra
,
buy cialis online
,
buy viagra online
,
buy viagra online
,
buy cialis
,
cialis online
,
buy viagra
and Ph.D from NorthEasternHillUniversity. He also has two other master degrees, – M.Sc. (Computer Science) and MBA – to his credit.
Throughout his academic career he has been a rank holder, being 1st class first in both B.Sc and M.Sc; he was a NEHU gold medal winner in M.Sc. He is presently working in as many as four different fields of research. He has a large number of publications in reputed national and international journals. He has also authored and edited national and international journals and books. Dr. Dey is the only recipient of the award from North East India.