GUWAHATI – In a novel workshop held at Assam Don Bosco University's School of Technology at Azara, a professional violinist and her collaborators on tabla and keyboard imparted lessons in creativity and leadership through music.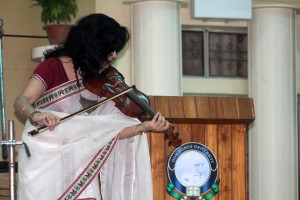 Acclaimed Assamese violinist Ms Sunita Bhuyan from Mumbai gave a two hour presentation to the students and faculty.
She uses music as a tool for holistic
development for corporate, social and academic groups and has presented music led programs at various forums in India and abroad.
A recipient of the Indira Gandhi Priyadarshini award for Music Ms. Sunita Bhuyan was accompanied by her mother and guru veteran violinist Ms. Minoti Khaund.
After the invocation song, Ms Bhuyan explained the two essential element in music as sur (melody) and tal (rhythm) which comes out of the mind of the artist through sound waves and reaches the audience evoking musical experiences.
She also told about the healing and therapeutic properties of music which can help slow down human system and bring down high blood pressure and fight stress.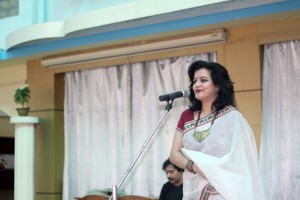 She encouraged some 1,200 students and faculty to 'deepen the depth of their area of expertise so that "the depth of domain could help widen their flexibility to tackle demanding situations."
Just like sur and tal, and the seven musical notes need to be highly disciplined to produce musical harmony, she emphasized that leaders complement team members to achieve success.
Ms Bhuyan also played a Bihu tune from her latest folk fusion album "Bihu Strings" which happens to be the only Bihu album on violin.