The first day of the new academic year 2014-15 started off today (14 July) with a special hour-long assembly for second, third and fourth year students. The official inauguration of the academic year is scheduled two weeks later on 31 July when the freshers would be present.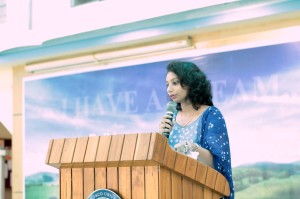 Welcoming the students and the faculty, Principal of DBCET, Dr Manoranjan Kalita complimented the students who were engaged in several learning workshops as well as internships during their holidays. Besides encouraging them to make us of the new opportunities offered during the autumn semester, he insisted that students participate wholeheartedly in both co-curricular and extra-curricular activities as well as get involved in the various clubs.
A group of faculty members presented the 1972 chart buster song by the Swedish band ABBA entitled: I have a dream. Though the song was totally new to the young faculty members, they learned it and sang it with expression and gusto. One of the singers said, "it was indeed an inspirational learning experience for all of us."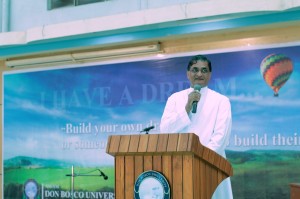 Following up on the song's theme, ADBU Vice Chancellor Dr Stephen Mavely presented the theme for the year as: "Build your dreams, or someone else will hire you to build theirs." He insisted on students to have a dream which would make them "push through darkness still another mile" of difficulties.