A team of 54 first semester students of Master of Social Work (MSW) accompanied by three faculty members left for Hahim, some 65 kms from Guwahati, for their rural practicum, 11th October 2014.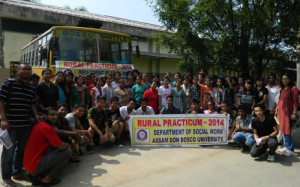 The team is placed in the Hahim village in Boko Circle of Kamrup district in Assam for 9 days – staying and working along with the people supporting them in their efforts to rebuild their lives after the devastating flood that hit them in the last week of September.
"Assam Don Bosco University has rescheduled the rural camp from December to October keeping in mind the importance of responding to the emergency needs of the people – a rare possibility and practice in other universities," says team leader and Assistant Professor Mr Victor Nazary.
The students had a one day workshop in Disaster Management and Mitigation, 8th October as immediate preparation in the relief and rehabilitation of flood affected people.
The workshop besides taking the participants through the concepts of disaster, trauma handling, vulnerability, risk, mitigation, preparedness also put them into simulated situations which the students could face and respond as individuals and in teams.
Regional Manager, Indo Global Social Service Society (IGSSS) Mr. Nitaji Basumatary was the resource person for the workshop.
Earlier in the month, a group of ten students and faculty members from ADBU spent their puja vacation to bring relief and help with the rehabilitation of the people of Hahim.
The team will return on Sunday, 19 October.