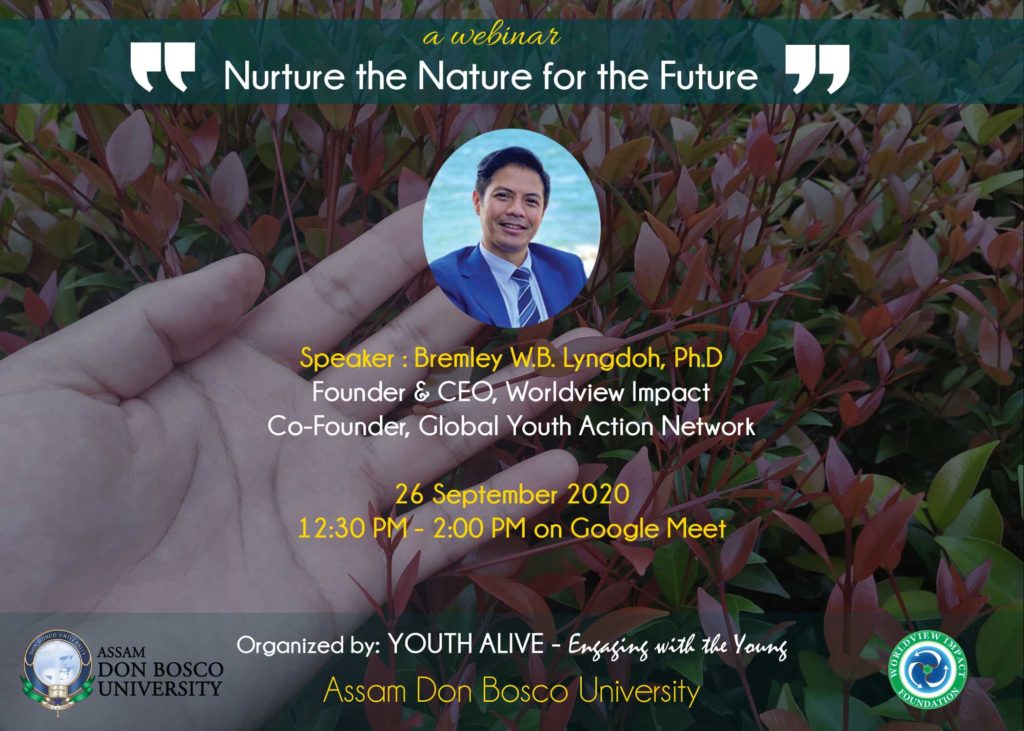 Assam Don Bosco University is organizing a webinar on 26th September 2020 on Google Meet with a topic 'Nurture the Nature for the Future'. This Webinar is organized to motivate the Youth to be part of this global campaign towards achieving environmental sustainability and address the need for "Conversion in caring for Creation and Ecological Spirituality".
As a member of the Don Bosco Green Alliance, we are committed towards accompanying the young towards a sustainable future and fostering the participation of the young in global campaigns on behalf of the sustainability of environmental and ecological causes for the care of creation and human life.
Follow the link to register: https://docs.google.com/forms/d/e/1FAIpQLSedi-7nbpJfxKwzmpokiOZubek5oZk2QhmYzM3delAsZZv6MA/viewform?usp=sf_link
Who is the Speaker?
Bremley W.B. Lyngdoh was born in Shillong – The Scotland of the East located in the highlands of Meghalaya in North East India and left home at 17 on a mission: To see Sustainable Development pushed and practiced across the planet. His experience at the 1995 UN 50th Anniversary Assembly in New York left him convinced that helping people build a better life through social, environmental, and economic development was what he wanted to do. He returned to India to join the Consortium of Indian Scientists for Sustainable Development and worked on a project to combat desertification and to regenerate the desert ecosystem in Rajasthan. Soon followed the prestigious WWF Prince Bernhard Scholarship for Environmental Leadership.
Bremley then joined UNDP and worked on the Gulf of Mannar biodiversity protection project in Tamil Nadu. This led to a move to New York to join the UN Commission on Sustainable Development Secretariat where he worked with the different major groups of Agenda 21. His Prime Minister in India then appointed him as the Youth Ambassador for his country at the UN Millennium Summit where he addressed world leaders at the 2000 Millennium Assembly. He then joined the Environment Department of the World Bank and worked on linking poverty reduction and environmental management by analyzing policy challenges and opportunities after which he moved to Boston and joined the Education Development Center. As an explorer he has travelled to 75 counties around the world on different missions.
Bremley received post graduate degrees from Columbia University in the USA, the London School of Economics in the UK, the University of Geneva in Switzerland and the Intercultural Open University in the Netherlands. He has a dual Ph.D. in Sustainable Development from the Azteca University in Mexico and the Central University in Nicaragua. He is the Founder and CEO of Worldview Impact, the Co-Founder of the Global Youth Action Network and Co-Chairs the United Nations CSD Education Caucus.