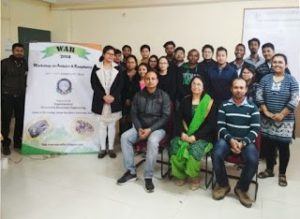 The Department of Electrical and Electronics Engineering (EEE) organized a Workshop on Arduino and Raspberry Pi (WAR) on 10-11 Feb 2018. This is the third Edition of WAR, organized in the University.
The main objective of the workshop was to give the participants an insight of various applications of ARDUINO and RASPBERRY PI. The workshop started with inauguration of the event by the Chief Guest Prof. Durlav Hazarika of Electrical Engineering Department, Assam Engineering College. Addressing the gathering, the HoD of Dept. of EEE, Prof. Shakuntala said that the workshop aimed at creating an environment to explore beyond the academic syllabus with the use of Arduino and Raspberry Pi, which will help the students to try different types of engineering projects.
The workshop covered topics from basic theory to practical hands-on training and 15 participants were awarded certificates.
The resource persons of the Workshop were Assistant Professors of the department- Mr. Gitu Das, Mr. Jyoti Kumar Barman, Mr. Bikramjit Goswami and Ms. Pushpanjalee Konwar.