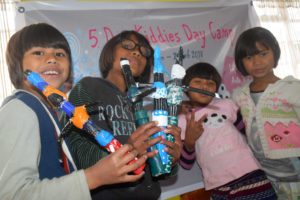 Through the Center of Development Studies and Initiatives of the University, the alumni of the University conducted a 5 Day Kiddies Day Camp at A. W. Thomas Girls Home for the children of 6-13 years old from 29th January to 2nd February 2018. The main aim of the camp was "to enhance the psycho-social competence of the children living in this institution".
During these five days, a number of activities including sessions on – Body Image and Gender Sensitization by Ms. Adoreen Marbaniang, Superintendent, Green Pasture Children's Home, Pyndengrei; Puppetry Workshop by Ms. Manribha Laloo, ICTC Counsellor, Jowai Unit, Meghalaya Aids Control Society; Body Safety Rules by Ms. Saphira Lidia Tynsong, Superintendent, William Lewis Boys' Home, Mawphlang; Arts and Crafts by Ms. Hazel Berret Wahlang, Ms. Camilia Ryntathiang and Mrs. Ilasiewdor Marwein, District Civil Work Coordinator; and Games and Sports etc
A.W. Thomas Girls' Home is a charity based home run by the KJP Assembly, East Khasi Hills District and it was established in the year 1981 by Wales Missionaries. The main purpose of starting thins home was to support the poor and to reach out to those underprivileged children from all the districts of Meghalaya giving them shelter, food and education. The home has of 10 staff members and 38 inmates between the age of 6-17 years. It is collaborating with the Integrated Child Protection Scheme, Social Welfare for proper functioning as per the JJ Act.