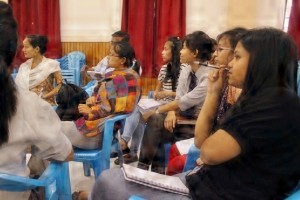 The Department of Psychology and Counselling organized a workshop on Projective Techniques for Personality Assessment on 14 -15 May, 2016.
The resource person, Dr. Ushri Banerjee, Assistant Professor from the University of Calcutta, Department of Applied Psychology gave a lively lecture and organized various activities during the workshop. Dr. Bannerjee is not only an academician but also a practitioner in the field for the past several years and has ample experience in the psychological assessment and testing.
The workshop was attended not only by the students of the Don Bosco University but also by the students from various Colleges and Universities in Guwahati, including the faculty members of Handique Girls' College and Royal Global School.
The Workshop Co-ordinator, Asst. Prof. Sabiha Alam said, "Thee workshop turned out to be very successful and during the feedback sessions, participants expressed that they look forward to more of such events in the future".