Guwahati: A 3-day Camp on Entrepreneurship Development, organized by the University's Entrepreneurship Development and Incubation Cell (EDIC) concludes today with Certificate distribution in the Conference Hall. The camp held in collaboration with Entrepreneurship Development Institute of India is sponsored by Department of Science and Technology, Govt. of India, New-Delhi.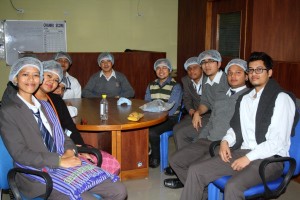 "The workshop was designed in two segments which included both theory sessions as well as field trips to give participants maximum exposure," said one of the program coordinators Bikash Agarwal.
"Besides touching upon an overview on Entrepreneurship – its importance, scope, and historical background, the participants were administered Entrepreneurial Competency Test," says EDIC Coordinator Rashmita Baruah.
"The response from the students for the workshop was overwhelming. We had planned it for only 75 participants. We had to close the registration with 76 students," said University's Training and Placement Officer Shahnowaz Hussain.
There were nine input sessions spread over the first and third day.
Some of the sessions for the first day were: Entrepreneurship – Its present scenario in India by Sriparna B. Baruah, Head, Centre for Industrial Extension, IIE; Significance of Innovations Identification of opportunities for entrepreneurs in Northeast Region by K.N. Hazarika and P.K. Saikia, ACS, Jt. Director, Industries, Govt. of Assam; and Mechanism of product selection and technology-assistance from R&D labs and others on choice of technology etc., by Biswadip Barooah, Head, Incubation Centre, IIT Guwahati ; and S.R.M. Prasanna, IIT Guwahati.
On the second day the participants visited industrial organization and shop floors at Emami Ltd and Varun Beverages (Pepsico). Each visit was followed by open discussion session with the officials in the industrial unit.
The Third day's session highlights include: How to start a Small Scale Industry unit (General concepts – different aspect of an industrial venture); and Technical, commercial and financial aspects of SSI unit: Dilip Sarmah, Director, Orion Financial Services; S. Baruah, Addl. Director, MSME-Development Institute, Guwahati.
Three budding entrepreneurs from BYST; Wrishiraj Kaushik, Libresoft Technology Pvt. Ltd.; Arunabh Sarma Pathak, and Owner, MyTaxi Services also shared the success stories of Entrepreneurs – the men behind their successful ventures, Common problems faced by them.
An Interactive Session with the entrepreneurs also included a short Presentation on Youth Entrepreneurship by Alina Dutta Roy, Mentoring Officer, Bharatiya Yuva Shakti Trust.
Other in house sessions were also conducted by Assam Don Bosco University faculty members Rashmita Barua, Bikash Agarwal, and Pranab Das.