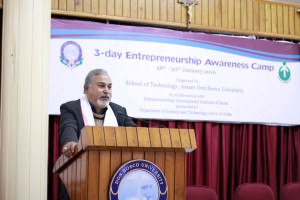 A 3-Day Entrepreneurship Awareness Camp was organized by the School of Technology from 28-30 January 2016 at Azara Campus with an aim to nurture the young minds of the University to become not only job seekers but job providers, to have skills and courage to break away from tradition and indirectly support freedom by reducing dependence on obsolete systems and technologies.
At the opening Ceremony held on the 28th morning at Conference Hall, the Pro-Vice Chancellor, Fr. Joseph Nellanatt addressed the participants and invited guests, highlighting how the timing is perfect for going deeper into entrepreneurship awareness programmes as Central Government has also recently come up with an initiative "Start Up India, Stand Up India", geared towards encouraging entrepreneurship in the country.
The keynote address was delivered by Prof. S. K. Kakoty of IIT Guwahati, who is also an Acting Co-ordinator of RUTAG-NE. Prof. Kakoty spoke on the importance of Innovation in Entrepreneurship and said every person has an innovative mind but some use to develop a venture and some do not. He said entrepreneurship is the capacity and willingness to develop, organize and manage a business venture and stated that entrepreneurship is a combination of technical as well as managerial knowhow.
The first day had 4 technical sessions delivered by various experts and academicians:
The first technical session presided by Mr. Biswajit Chakrabarty, Head, FICCI, North-East Council focused on the opportunities that are available in NE India for entrepreneurs to explore.
The second technical session dwelt on 'Opportunity Selection Framework and Opportunity Identification through investigation of the environment', and it was presided by Dr. Rashmita Barua of Don Bosco University.
The third technical session focused on 'encouraging the participants to take risks in entrepreneurship' and it was chaired by Asst. Prof. Victor Narzary from the University's School of Social Sciences.
The last session of the day was taken forward by two eminent entrepreneurs of the state. Mrs. Atreyee Barooah Thekedath, Founder Director, Web.Com India and Mr. Arindam Hazarika, Founder Director, Arohan Foods who interacted and shared their experiences with the participants. Both the entrepreneurs emphasized on the need to have perseverance to embark on a new venture.
The second day of the camp was dedicated towards familiarizing the participants with the practical facet of industries. The participants were visited Supreme Industries and Varun Beverages.
The Training and Placement Officer, Mr. Shanowaz Hussain chaired the third and final day session, where participants learned the intricacies of starting an SSI Unit and the distinction between Micro, Small and Medium Enterprises.