The Vice-Chancellor of Assam Don Bosco University (ADBU) inaugurated a two-week National Level Workshop cum Summer Internship on Web Applications Development (NSIWAD'14) today, 2 June. This workshop is the first in a series of summer programs scheduled at ADBU.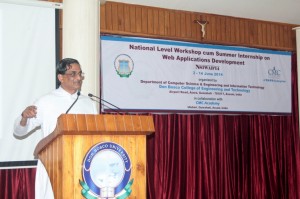 The workshop is a joint venture of ADBU Department of Computer Science & Engineering, and Information Technology, and CMCAcademy (a TATA Enterprise). Besides 16 ADBU faculty members, resource persons from Zaloni, and Trendsetters Consulting House are teaching eight hour sessions during 12-days.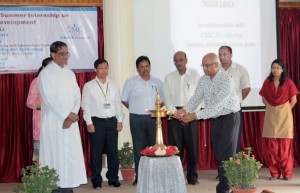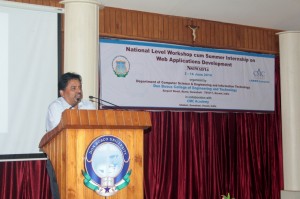 "The objective of this workshop is to expose and acquaint the participants with the state of the art tools and technologies involved in designing and developing professional web applications," said HoD Computer Science Engineering Dr Jayanta Singh. "We are overwhelmed with the number of applications for this workshop. It is true that we had to disappoint several eager candidates," said Assistant Professor CSE & IT and Workshop Coordinator Miss Gypsy Nandi explaining the selection process to the workshop
designed for 50 participants. Out of 97 applicants for the workshop only 58 were selected.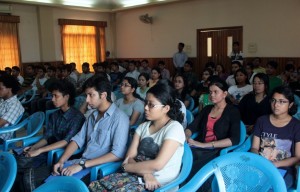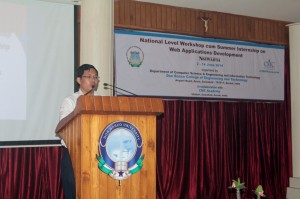 Of these, 10 participants are from neighbouring
institutes of Guwahati, as well as candidates from other states including Arunachal Pradesh and Maharashtra. Undergraduate students of the various related departments (BE/BTech/BCA/BSc) as well as students of post graduate courses in IT are participating.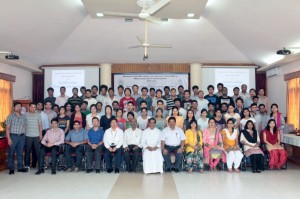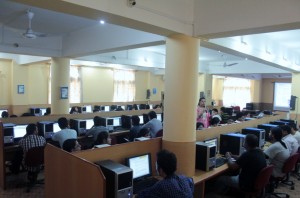 The day long workshop includes lectures, practical sessions, demos and hand-on-practices on various topics related to web-applications like designing web pages, UML diagrams using Automated Designing Tools, and Image Editing for webpage.