The Principal of Don Bosco College and Engineering, Dr. Manoranjan Kalita declared the second in a series of summer programmes open at ADBU Azara campus today, 3 June.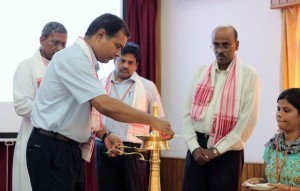 Christened "Short Term Course on Electronic Systems Design" (STCESD 2014) the day-long workshop is held at Don Bosco College of Engineering and Technology (DBCET) at Azara.
The STCESD workshop, 3-15 June, is a joint initiative of the Department of Electronic Communication Engineering, ADBU School of Technology, along with Adlabts Solution and National Instruments.
Speaking at the workshop inaugural, Dr Mavely challenged the department to do an On-Campus Energy Consumption audit as well as get actively involved in ADBU's two Megawatt solar energy project. Dr Mavely also shared his dream of replacing all 39 laboratories with sate of the art simulation instruments he saw at Edibon Company in Madrid, Spain.
The ADBU Registrar Dr Basil reminded the participants "only smart people can make smart machines." He challenged them to develop new systems based on Open Source Software.
"During this workshop we want to familiarize the students with Embedded Systems and its related applications, provide hands-on skills on Circuit Simulation and PCB design, Programming using AVR microcontroller, and introduce Familiarization and Application Development with LabVIEW," says Assistant Professor and Co-convenor Hemashree Bordoloi.
"Today embedded systems are found in all daily consumer appliances, and in developed countries even human beings carry implanted devices which send regular signals to parent instrument monitoring heart condition," says Workshop Convenor and HoD Dept of ECE Dr Sunandan Baruah.
"This department [ECE] has been a pioneer for summer programs," said Principal of DBCET Prof Manoranjan Kalita complimenting the team for organizing the second workshop.
Among some 40 participants attending workshop are ADBU faculty, researchers and students
from the fields of Electronics, Electrical, Computer Science, Instrumentation and Physical Sciences.
Assistant Professor ECE Parismita A. Kashyap anchored the inaugural session followed by Dr
Utpal Sharma of Guwahati University who gave the first session speaking on "Embedded Systems."