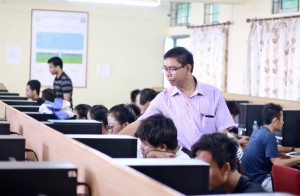 The Department of Civil Engineering organized a 10 day Short Term Training on AutoCAD & ABAQUS from 30th May – 10th June 2016.
The training course aimed at making the participants understand about the drafting knowledge and modelling capabilities of these softwares.
ABAQUS is used in the automotive, aerospace, and industrial products industries. The software is popular with academic and research institutions due to the wide material modeling capability, and the programs ability to be customized.
AutoCAD is a computer-aided drafting software program used to create blueprints for buildings, bridges, and computer chips, among other things.
Asst. Prof. Ningombam Thoiba Singh of Civil Engineering trained the students in both the software and coordinated the programme with the support of Mr. Tapash Bsiwas, Laboratory Instructor, Civil Engineering Department.