Computer Literacy Training for Local Women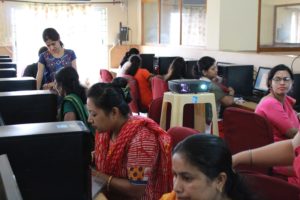 One key to enhance learning, as found in Steve Ehrmanns article, is for people to 'think with the technology rather than thinking about it'. Keeping this in mind, VanitAgrata, the women empowerment cell of Assam Don Bosco University (ADBU), has carried out their third training programme of providing free basic computer literacy training to neighborhood women of Azara, Guwahati on 26-27 August, 2017 at Azara Campus in collaboration with Shining Stars Kidzee Khanamukh.
The primary objective of these trainings is to carry out a drive towards social commitment by providing free basic computer literacy training to women primarily in the rural areas so as to make them able to use computers and related technology efficiently and specially utilize the wide advantage of accessing the Internet. It is hoped that the experiences gained by the participants during the workshop will be translated into a real use of computers for day-to-day purposes.